LeakFinder® Universal AC Dye (LF1001) works with all automotive air conditioning systems containing R-134a, R-1234yf, or other widely used refrigerants, and will not affect system lubricant properties or change how the equipment works. System-specific dyes may be used with oil-based fluids as well. For example, LeakFinder® Oil-Based Dye (LF2001) addresses systems containing oil, fuel, transmission fluid, power steering fluid, and more. UV dyes can also be added to coolant, and be used to treat leaking radiators, hoses, and other system parts. LeakFinder® Coolant Dye (LF3001) can be used with all conventional coolants and is compatible with all blue/violet/UV leak detection flashlights.
UV Dye Helps Older Cars Run Longer
The average age of vehicles in America has reached an all-time high. A typical vehicle on the road today is around 11.8 years old. This average vehicle age has increased by 4% over the last five years. The total number of vehicles on the road has also increased to more than 278 million. The number of vehicles that are at least 16 years old will increase by 22% by 2023, reaching a total of 84 million. Reasons for the rising age of vehicles include:
Quality improvements that allow vehicle owners to keep their cars longer.
Larger loans and payment terms increased to six or even seven years, giving owners an incentive to keep their vehicles longer.
Uncertainty and variability in the economy reduces interest in new car purchases.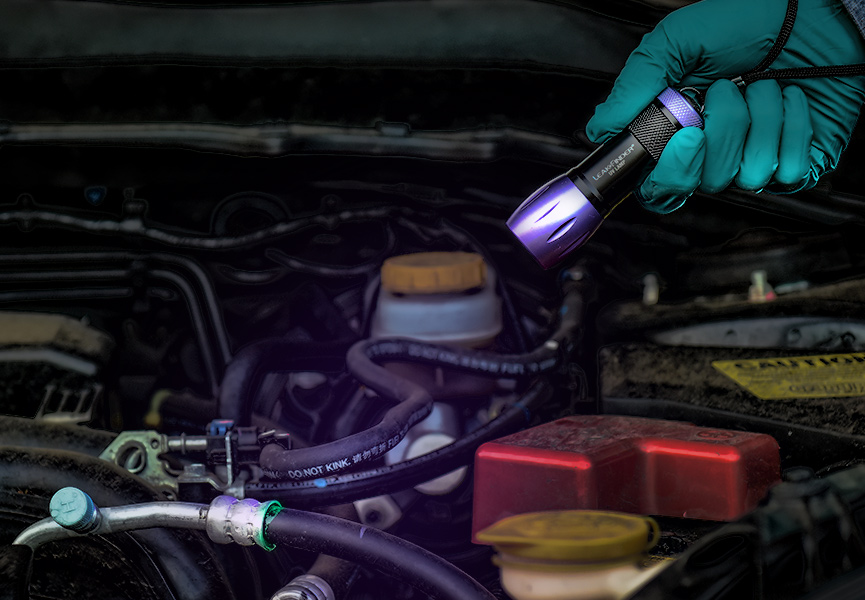 Catching Problems Early
Proactive maintenance helps technicians get ahead of potential vehicle breakdowns. There are scheduled dates for inspection and the maintenance of critical parts. Critical parts such as the transmission system, steering and suspension systems, wheels, tires, the exhaust system, the electrical system, belts and hoses, and other critical parts are inspected for any defects.
Emergency repairs cost up to 6 times more than planned repairs, so maintenance plans that rely on reactive maintenance are generally the most expensive. Reactive maintenance can be very costly indirectly. Parts that have failed must be ordered, shipped, and delivered. Depending on availability, a replacement part can take days or weeks to arrive.
WHAT HAPPENS IF THERE'S A REFRIGERANT LEAK?
If there's a leak in the ac condenser or the evaporator, the refrigerant will escape and stress the system. A lack of refrigerant reduces the cooling performance of the AC system and damages the components. When a leak is present, moisture can also make its way into the unit. Mold and mildew can form and interfere with normal operation.
Refrigerant contamination causes significant wear-and-tear. For example, when a compressor begins to fail, sharp metal particles can travel through the rest of your AC system. These particles damage the entire system. When this occurs, all cold air and airflow will end.
WHAT'S THE WORST THAT COULD HAPPEN?
A quick review of how the ac compressor works on an older car will help us understand why the problem is so diabolical. On a hot summer day, pressures on the high side can exceed 350 psi. These compressors turn over fast and work hard.
Once compressors get over 150,000 miles usage, it's just a matter of time until they develop problems. If you're lucky, the compressor will have external problems requiring replacement before the inside deteriorates.
Typically, the reason why an internal failure is such a big problem is that metal chips break off and are pushed throughout the entire AC system. This is why an internal compressor failure is the worst AC problem. Mechanics do their best to flush the system with a specialized cleaner. Despite their best efforts, just a few chips hiding in the corner of a condenser assembly can work its way loose and cause repeat problems. Not only is a compressor replacement expensive from an auto part and labor point of view, but it often leads to additional visits to the mechanic to fix ongoing problems.
The LeakFinder brand is Tracer Products cost-effective solution for end-users in the automotive aftermarket. LeakFinder products are made for DIY jobs and small to mid-sized automotive repair shops. They are the perfect tool for finding small, sporadic leaks in automotive AC and fluid systems.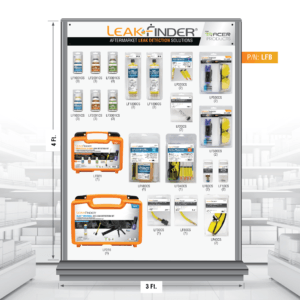 About Tracer Products
Proudly made in the U.S.A., Tracer Products is a family-owned company with three generations of experience in delivering award-winning professional service and the industry's most powerful leak detection dyes, inspection lamps and diagnostic tools. Today, major OEMs around the world trust the Tracerline brand. Over 275 million vehicles have used Tracerline's UV fluorescent leak detection dyes to ensure quality and system integrity. For more than 60 years, Tracer Products has engineered the highest-quality, premium performance leak detection dyes and products. As the inventors of UV fluorescent leak detection, we take pride in crafting the most superior leak detection dyes in the industry.