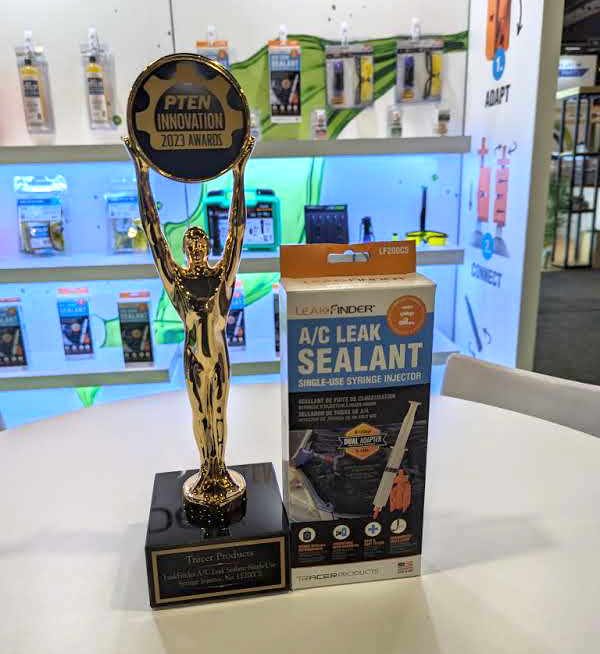 In the realm of automotive innovation, where cutting-edge technology meets practical efficiency, one product has recently stood out among the rest: the Tracer Products LeakFinder LF200CS A/C Leak Sealant. This groundbreaking solution has garnered industry-wide applause, clinching the prestigious PTEN (Professional Tool & Equipment News) Innovation Award. This accolade, revered within the automotive sector, highlights tools and equipment that exhibit unique innovation in their functionality, utility, and performance.
The LeakFinder LF200CS A/C Leak Sealant
The LeakFinder LF200CS isn't your everyday A/C leak sealant. It's a testament to Tracer Products' commitment to excellence and innovation. The sealant is expertly engineered to provide fast, efficient, and permanent sealing for common types of A/C system leaks. These include leaks in rubber components like O-rings and gaskets, as well as metal components.
What sets the LF200CS apart is its compatibility with all common refrigerants, including R-134a and R-1234yf, making it a universal solution for a variety of A/C systems. Furthermore, the product is non-clogging, ensuring that the vehicle's A/C system maintains optimal functionality without compromise. The sealant also boasts an impressive formulation that's non-reactive to moisture, which is critical because moisture within A/C systems can often be a catalyst for detrimental reactions, leading to system failure.
The PTEN Innovation Awards
The PTEN Innovation Awards, established to recognize revolutionary automotive equipment, have become a benchmark of excellence within the industry. These awards underline the significance of innovation in automotive technology, specifically focusing on tools and equipment that provide technicians with new and efficient ways to tackle everyday tasks. Winning this award isn't merely about recognition – it's about setting a standard and pushing the entire industry forward.
Tracer Products didn't just create a sealant; they delivered a promise of quality, efficiency, and reliability, which resonated with the PTEN award committee. The LeakFinder LF200CS was evaluated on several criteria, including its innovativeness, benefits to technicians, and potential to improve efficacy and productivity in automotive repair and maintenance tasks. Check out what PTEN had to say about the LF200CS here.
Celebrating Success at AAPEX
The stage for Tracer Products' accolade reception is none other than AAPEX (Automotive Aftermarket Products Expo) in Las Vegas, the premier event where industry giants converge to showcase advancements, share knowledge, and celebrate achievements. AAPEX is renowned for being a hub of innovation, making it the perfect backdrop for acknowledging the strides Tracer Products has made with the LeakFinder LF200CS.
Tracer Products will be in attendance at AAPEX, engaging with industry professionals, enthusiasts, and contemporaries, further solidifying their position as leaders in the automotive aftermarket space. Their presence goes beyond merely accepting an award – it's about community engagement, knowledge sharing, and industry advancement. You can experience this revolutionary product and connect with the masterminds behind it by visiting booth number A1031.
A Step Towards the Future
The PTEN Innovation Award is more than a trophy on a shelf; it's a symbol of commitment, a beacon of innovation, and a testament to the relentless pursuit of excellence. Tracer Products' LeakFinder LF200CS A/C Leak Sealant is not just a product but a significant contribution to the automotive industry's future. It addresses the nuanced challenges faced by technicians and vehicle owners alike, offering a solution that's efficient, reliable, and above all, innovative.
Join Tracer Products at AAPEX, booth A1031, to celebrate this remarkable achievement and witness firsthand how innovation is shaping the automotive world's future. This award-winning sealant is more than just a quick fix; it's a game-changer in automotive care and maintenance.
Here's a recap from last year's AAPEX!