The Elements of a PM Plan
Preventative maintenance helps auto shops and fleet managers save money and be more efficient. Whether it's maintaining inventory or executing successful repairs, a PM plan can optimize vehicle servicing.
Preventative maintenance is comprised of four basic elements: engineering, economics, psychology, and execution. Each of these elements plays an important role in your PM plan. In the following passages, we'll describe how each element works.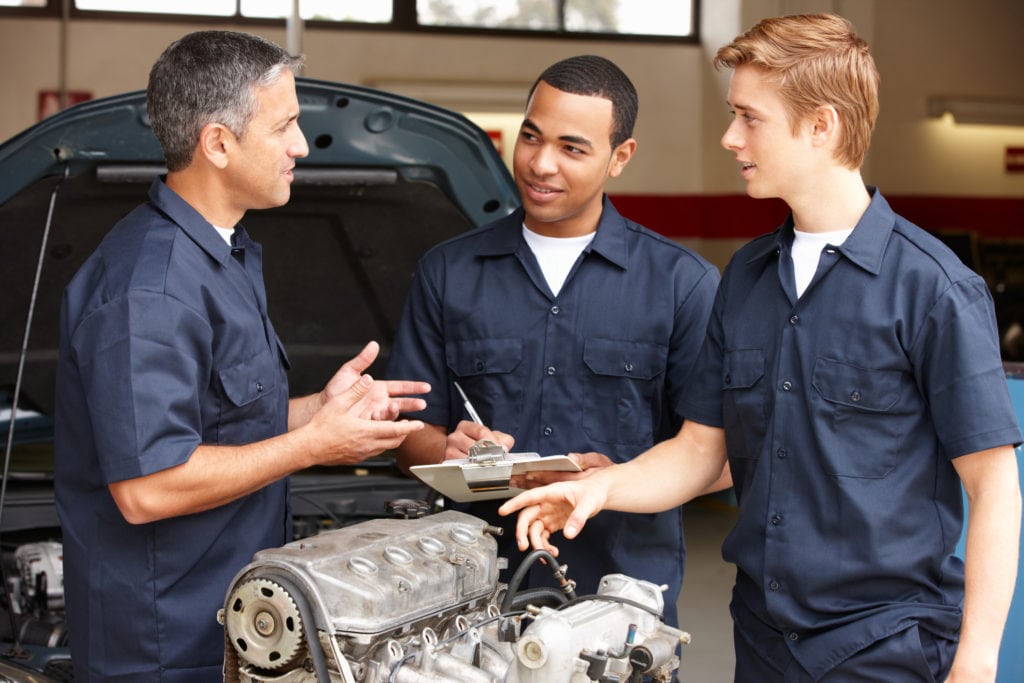 Engineering
The engineering element of preventative maintenance is based on figuring out how often to inspect parts for defects.
By collecting information about which parts fail most often, technicians can quickly tackle the most common mechanical issues. They can do this by stocking inventory on-site. Or they can source parts more cheaply by purchasing in bulk amounts.
But most importantly, technicians need to ask, "When is the right time to inspect?"
That means this element focuses on recording how often components fail and what needs to be done to stop breakdowns from happening. To ensure customers and fleets get the fastest, most reliable service – it's imperative that accurate and up-to-date records are kept.
Keeping an accurate servicing record allows technicians to remind customers or drivers about inspections.
Customer loyalty grows when personal attention is given. And fleet drivers are more cognizant of inspections due if there's a reminder coming from the service manager.
Economic Value
The second element of a good PM plan is based on its economic value. This portion of a PM plan determines the cost of investing in a PM plan.
The question this element asks is, "How do the costs of a PM plan weigh against the total value of the equipment being monitored and repaired?"
This economic element seeks to calculate the return on investment for implementing a preventative maintenance plan.
For example, gauging how much inventory to keep on-site can be difficult. But with a PM plan, you can more accurately figure out what to keep on hand.
Auto shops and fleet managers need to be aware of which parts are in most demand. This is also an opportunity to look for more efficient and timely suppliers. The quicker you can resupply, the faster you can provide service.
When inventory runs out, that's how money is lost. It's one of the biggest cost-burdens in the automotive repair industry. Delays or miscommunication can hurt your company's reputation.
Most businesses don't realize preventative maintenance plans cost a fraction of their total yearly revenue.
Did you know you can create a successful preventative maintenance plan using less than 3% of your operating revenue? Even the smallest investment in a PM plan can save thousands of dollars.
Benefits of a PM Plan:
No longer waiting on parts to arrive. Inventory is stocked with an up-to-date list of parts and material needed for repairs.
Reduced employee downtime and labor costs.
Eliminating overtime expenses to make up for the lost time and emergency repairs.
Waiting on shipments and/or shipment delays. Overall delivery becomes much less costly.
The elimination of emergencies. Better quality work and more time spent on each job.
Better management of staff.
Better coordination between technicians. More time allowed for specialized repair and detailed servicing.
Psychology
The psychological aspect of a PM plan seeks to analyze how people work within the PM plan.
The focus of this psychological aspect is to review the training, standards, and defined policy. This aspect tries to look for hiccups in the plan and areas where conflict may arise.
At the end of the day, your employees and their training will decide if your preventative maintenance plan will succeed or not. If they aren't properly trained, then the plan will fail.
On a separate point, if there isn't any accountability for how the plan is executed, then there's no incentive for your employees to implement the plan faithfully.
The psychological aspect of PM is as important as the engineering and economic aspects. Without thorough examination and reflection, all the resources you've invested in your preventative maintenance plan will garner no benefit whatsoever.
In short, the psychological aspect of PM tries to optimize, engage, and motivate the people implementing the plan.
The question this element asks is, "How are people reacting to the PM plan? Is it affecting our corporate culture? How can this plan work better for all the people involved?"
Management
The management element of PM details how the plan will be executed in the day-to-day operations of your business. How the PM plan is managed will affect all the other elements of your PM plan.
The point of management is to make sure all the investments put into making the PM plan is executed properly – ensuring the return on investment is a net positive.
Gaps and inconsistencies in the PM plan can quickly sap effectiveness. If parts of the plan are being intentionally skipped or avoided, then all the investment in time and energy will be lost.
This element of the PM plan is critical to retrieving data for the continuous improvement of your preventative maintenance plan. It seeks to capture and learn from how the plan is executed within the organization and how it will ultimately help customers.
Training, Accountability, and Transparency
Training your staff costs time and money. But the benefits are worth it. Having well-trained, educated employees helps minimize mistakes and makes your company more autonomous.
Properly trained employees find issues more readily. They are more experienced. And they have a better understanding of how to fix problems. Remember: Your company sets the standard. When a problem comes up, how it's handled starts with a clear and definable policy.
Preventative maintenance is not only about efficiency. Preventative maintenance is about accountability. Employee accountability has a big impact on how things are handled.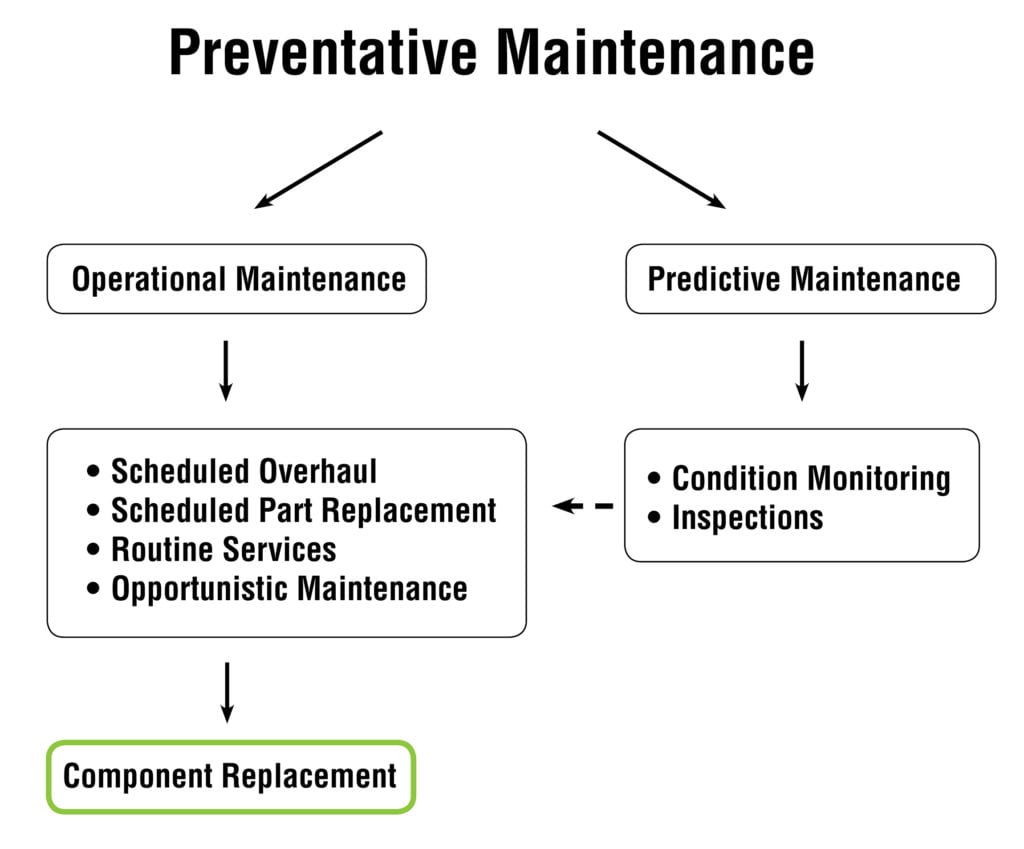 Service records contain retrievable data. That means information about the vehicle being serviced, the technician, the repair, and the service date are all being recorded. If a customer comes back complaining about poor service, service managers can figure out what went wrong quickly and accurately.
By introducing a PM plan to your organization, you and your team can optimize workflows and reduce costs. Although a strong PM plan may take time and effort, the investment is worthwhile.
The TP-8692 UV Multi-Colored Fluid Dye Kit
The TP-8692 UV Multi-Colored Fluid Dye Kit is the perfect product to integrate into your preventative maintenance plan. It comes will all the tools necessary to quickly begin detecting problems and preserving the service life of vehicles.
If a vehicle is consistently losing operational fluid in between inspections, this is an indication of a leak and that means there's a serious problem. Leaks can be big or small. If the leak is substantial, the vehicle system will shut down and stop working altogether.
But smaller leaks can erode at system integrity over a longer period of time, inflicting damage slowly and perhaps unnoticed. In cases such as these, the TP-8692 Kit is the best solution.
The color-coded fluorescent dyes detect leaks quickly and effectively across multiple systems during a single scan. Even the smallest and most difficult leaks can be detected.
In a 2016 industry report, it was found that preventative maintenance tools, such as ultraviolet fluorescent leak detection, can stop ¼ of all vehicle system failures – saving car owners hundreds or even thousands of dollars per year.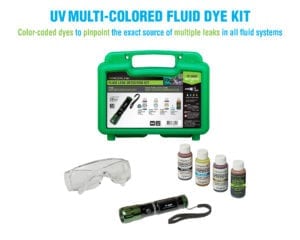 With a set of color-coded leak detection dyes, a single technician can diagnosis leaks across multiple vehicle systems.
The kit includes three color-coded dyes for petroleum and synthetic-based fluids: white dye, yellow dye, and blue dye (red dye is sold separately). These multi-color dyes allow a technician to check for transmission, oil, fuel, power steering, and other fluid-based leaks. The kit also includes a specially designed green fluorescent dye for conventional coolant.
Tracerline's UV dyes are concentrated, safe to use, and they won't affect the vehicle system's chemical properties or change how the fluid works.
These specialty dyes can remain safely within the fluid system. That means once the repair is made, the dye can be used as part of a preventative maintenance program.
Every time a customer comes back to have their vehicle serviced, all a technician has to do is scan the vehicle's system with a UV leak detection lamp.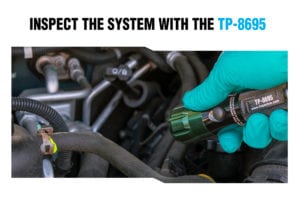 If there are new leaks in the system, the fluorescent dye will glow brilliantly and indicate the exact location of all new leaks, across all fluid-based vehicle systems.Tracerline's UV Multi-Colored Fluid Dye Kit has been featured on the cover of Professional Tool and Equipment Magazine's December 2017 Issue.
It is the first and only completely customizable, color-coded leak detection kit for all fluid-based vehicle systems.