Checking Your AC and Coolant Systems
Despite the late season snow, spring is here and the temperatures will soon rise. Now is the time to make certain your vehicle's A/C and heating systems are in top-shape and free of any defects. Vital fluids such as coolant and refrigerant can affect the performance of your vehicle. Not being aware of the status of these systems can lead to inefficiencies, unnecessary strain, and eventual mechanical breakdown.
To make sure your heating system is operating at full capacity, turn your heat all the way up and allow the unit to run for about 10 minutes. Listen to your fan system. If the system sounds like it's struggling, inspect the air ports. The sound your system is making is often overlooked in the everyday use of your vehicle. If anything sounds strange, first make sure there are no obstructions in your interior vents. Then check intake ports on the outside of your vehicle. Clear away any leaves, twigs, or other debris.
Checking For Problems
If the fan system sounds fine and the air flow is normal, check the heat coming out of your vents. There should be enough heat coming out of your vents to warm the interior of your car quickly after it has been running for 15 or more minutes. Be sure to place your hand over the vents near the dashboard, the floor, and the near the windshield to assure the heat flow is uniform.
If there is inadequate heat flow, this may be an indicator that your coolant level is low. Coolant is critical to the safe and controlled operation of your vehicle.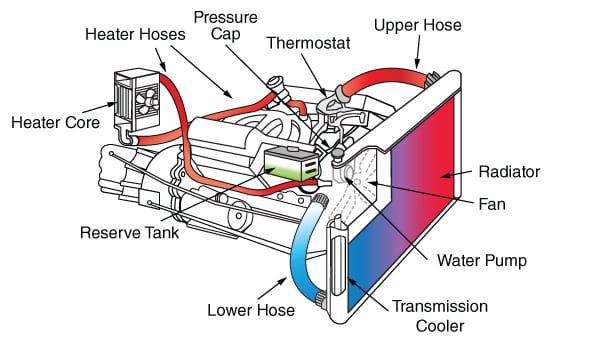 Your heating system uses hot coolant to warm the interior of your car. Coolant circulates around your engine block and transfers excess heat to the coolant, which is then dissipated ambiently via the radiator system. If coolant levels are insufficient or depleted, your engine can quickly overheat or worse. So even though winter is now behind us, checking your heating system is as vital now as it is at the beginning of the cold weather season.
Checking Your Coolant System
Checking the coolant level in your system simple. But your vehicle shouldn't be losing coolant under normal circumstances. Cracks in your vehicle's hoses, an improperly fitted radiator cap, a damaged water pipe, or a defect in your radiator can lead to the loss of coolant in your vehicle's system.
To check your coolant system, first allow the vehicle to cool down. Open the hood and locate the coolant reservoir tank. The reservoir tank is translucent and made of high-grade plastic. Your coolant will be stored in this tank. The color of the coolant will usually be red, green, blue, or yellow – depending on your system's specifications.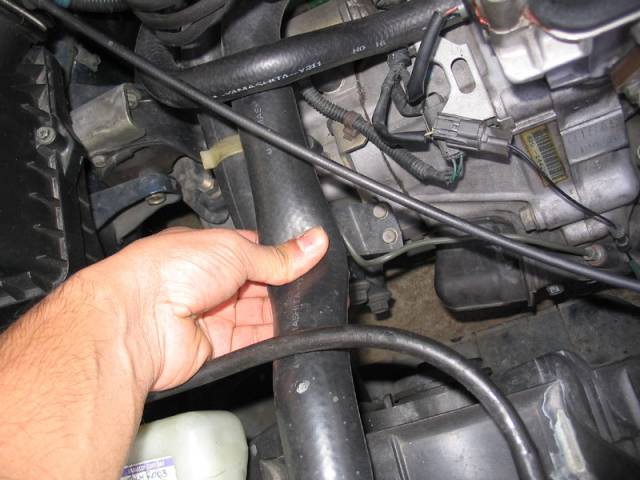 Checking the Connections
Once you locate the coolant reservoir tank, check the hose running to the tank and the other connections to the radiator. Inspect the condition of the hoses and the connections. Check for cracks, bulging, or deterioration. If everything appears to be in good condition, check your coolant level by removing the cap on the tank and looking inside. Your reservoir tank has two gradients to check if there is a proper amount of coolant in your system: one gradient for checking the coolant while the vehicle is HOT and operating, and another gradient for checking the coolant level when the vehicle has cooled. Be sure the coolant level meets the COLD gradient marked on your coolant reservoir.
Checking the Quality of the Fluid
Next, check the quality of your coolant. If the coolant looks oily, rusty, or murky, bring your vehicle to a qualified auto technician.
If there's no coolant in the reservoir, this means your coolant level is low. Coolant must be added and your system should be inspected thoroughly for leaks. Consult an auto technician for more information about adding coolant to your system.
Inspect Your AC System Now
Although we are at the start of Spring, warm weather can come at any moment. And why not fix an A/C issue before it becomes more serious? Now is the time to check your vehicle's cooling system. Start by checking your A/C system the same way you checked your heating system. Go to the control console, crank the A/C all the way, and check to see if the system is running properly. If you're A/C system is failing to produce cold air quickly and sufficiently, you may have a problem with your vehicle's A/C system.
If you are uncomfortable or unsure about checking your vehicle's systems, simply bring your vehicle to your auto technician.
Tracer Products Has You Covered
Tracer Products offers a wide variety of leak detection tools. Our specially designed fluorescent leak detection dyes can be added to your vehicle's A/C system harmlessly. Our array of fluorescent dyes can be added to all of your vehicle's fluid-based systems – such as coolant, transmission fluid, power steering fluid, engine oil, and more.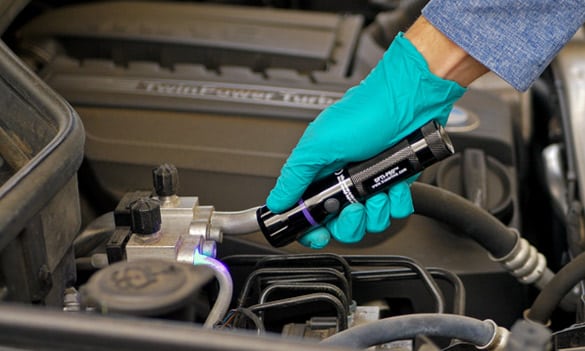 Simple to Use
Simply add the appropriate fluorescent leak detection dye to the suspect system, operate the system for a limited amount of time, and scan the system with one our many patented ultraviolet leak detection flashlights. For more information, please browse our website. You can tell your auto technician to use only the best leak detection tools on the market. Tracer Products was the first in the world to develop ultraviolet fluorescent leak detection and has been defining market expectations since 1955.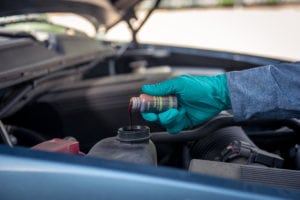 About Tracer Products:
Headquartered in Westbury, New York, Tracer Products has been at the forefront of leak detection technology for over 60 years. Tracerline® fluorescent dyes are so effective they have been successfully installed in more than 250 million vehicles to date, and are approved by OEMs such as Acura, Audi, BMW, Honda, Ford, GM and Volkswagen, among others. In addition to fluorescent dyes, the company offers a full line of rugged, top-quality, award-winning leak detection lamps, diagnostic tools and dye injection systems used in automobiles and heavy duty vehicles. Tracer Products is dedicated to upholding high standards in design manufacturing, ensuring customer satisfaction and in continuing to lead the world in leak detection solutions.