Heatwave Strikes
A heatwave that has gripped the country for days will get worse over the coming weeks – and A/C systems need to meet the challenge. Continuous heat and humidity have been so intense that it has led to roads buckling across the country. 
Heat indices are forecasted to be in the 90s to 100s throughout many parts of the country. The reason for this heatwave: the jet stream, a river of air that keeps weather moving, has retreated to Canada, so nothing is pushing the heat along. On top of that, dry weather feeds the heat in a vicious feedback cycle. Jeff Masters, renown meteorologist, said "very widespread" heat this month is going to be "very long-lasting."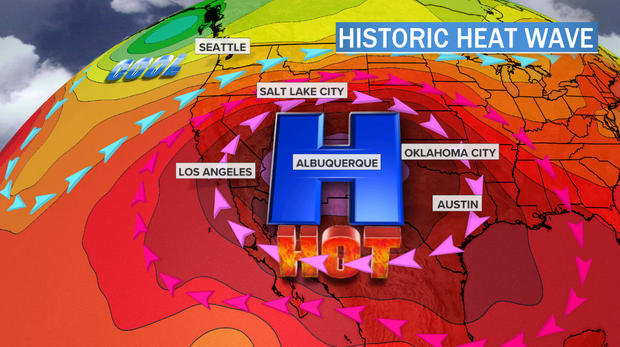 The Importance of A/C Maintenance
High temperatures can severely tax vehicle air conditioning systems. Drivers are using their A/C systems much more frequently and at a higher intensity. This excess usage can lead to breakdowns. Unnoticed, underperforming air conditioning systems may have had problems beforehand. And these issues only become apparent when the air conditioning is needed more often.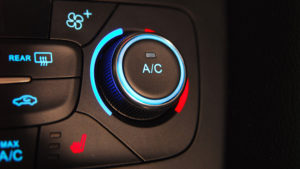 Small A/C leaks can sap performance. But the system can still operate. It's not uncommon for poor cooling output to go unnoticed. But in the middle of a heatwave, it's too late – drivers will have to suffer in hot cars or seek emergency repairs. If these small leaks go on for long periods of time, the repair cost can increase exponentially (into the hundreds or even thousands of dollars!).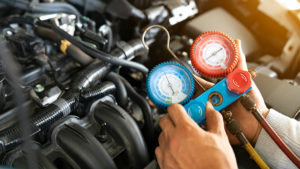 UV leak detection dye can spot leaks, quickly and accurately. The dye is added to the A/C system and permeates throughout. If there are any leak sites, the dye escapes. When scanned with a UV flashlight, the dye fluoresces brilliantly and indicates the exact source of all leaks.
Find Every Single Leak, Quickly and Easily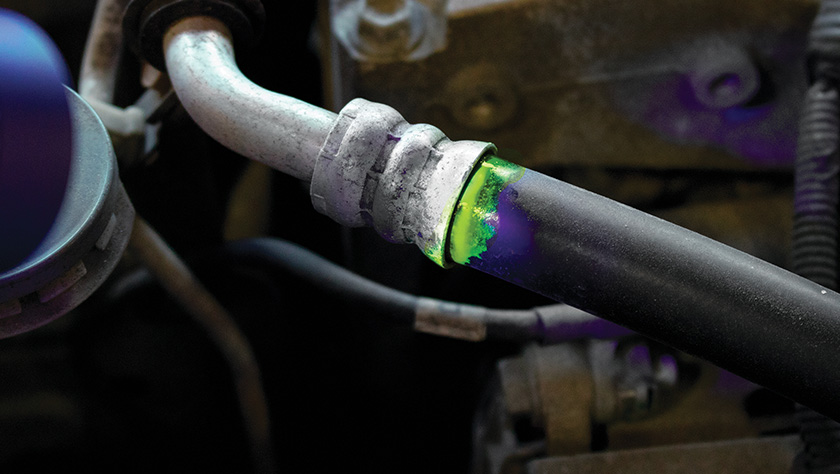 UV Leak Detection Dye for R-1234yf
Modern R-1234yf air conditioning systems have new requirements for fluorescent leak detection. With concerns over rising fuel costs, manufacturers are developing more efficient, environmentally friendly vehicle systems. The industry trend to smaller, more efficient vehicle systems makes it difficult to produce high-quality fluorescent leak detection dye. This is because of decreasing AC oil charges, oil/dye compatibility issues, and new refrigerant charging procedures.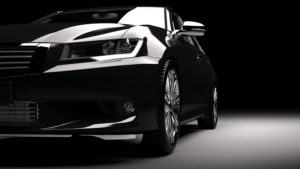 Over the past few years, refrigerant systems have changed drastically. Oil charges can now be as low as 60 ml. More than ever, it is critical for OEM Grade R-1234yf AC Leak Detection Dye to be highly concentrated. If too much dye is added to the system, the AC oil viscosity could easily operate outside of the manufacturer's specification. To avoid causing harm, R-1234yf compatible dyes should be formulated with OEM-grade R-1234yf oil, so the dye can be added safely without changing system properties. 
Tracerline's Fluoro-Lite® 5 TP3825 OEM grade R-1234yf AC leak detection dye meets all requirements for fluorescent leak detection. The dye doesn't affect the compressor's oil viscosity and is manufactured with R-1234yf oils. 
The TPOPUV19 UV Leak Detection Kit is the perfect tool for diagnosing R-1234yf air conditioning systems. Each kit comes complete with three Mini-EZ™ dye cartridges, an EZ-Ject™ dye injector assembly, an R-1234yf hose/coupler and purge fitting, and a 2 ounce (60 ml) bottle of GLO-AWAY™ Plus florescent dye cleaner. Also included in the kit is the TPOPUV OPTI-PRO™ UV cordless, violet light leak detection flashlight.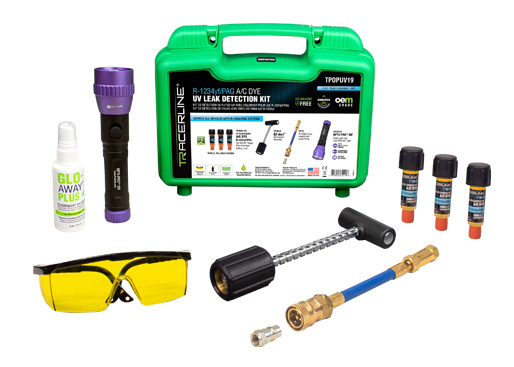 Each Mini-EZ™ cartridge treats one vehicle. These cartridges are excellent for automotive repair shops because it allows for single, billable dosing. This helps technicians and business owners simplify quoting jobs to customers. Additionally, these cartridges can be easily disposed of once the dye is added to the vehicle. 
DIY Leak Detection
For out-of-warranty vehicles and DIY enthusiasts, Tracer Products' LeakFinder® brand offers all the tools needed to diagnose leaks in fluid-based vehicles systems. 
LeakFinder® Universal AC Dye (LF1001) works with all automotive air conditioning systems containing R-134a, R-1234yf, or other widely used refrigerants, and it will not affect system lubricant properties or change how the equipment works.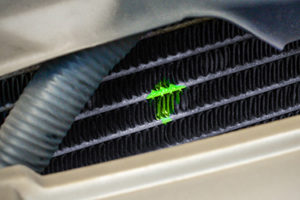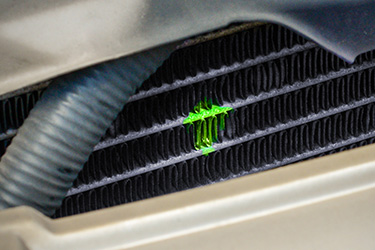 LeakFinder® Oil-Based Dye (LF2001) addresses systems containing oil, fuel, transmission fluid, power steering fluid, and more. 
LeakFinder® offers Coolant Dye (LF3001) works with all conventional coolants. These dyes are used to treat leaking radiators, hoses, and other system parts. 
The LeakFinder® LF021 Complete A/C & Fluid Leak Detection Kit is the perfect tool for finding A/C and fluid leaks. It comes with all the system dyes mentioned above and includes the LeakFinder® cordless, violet light LED leak detection flashlight (LF500CS). All contents are conveniently packaged in one rugged, compact carrying case. 
For more information about these great products, please contact us.