Modern, high-tech emergency vehicles use ultra-efficient R-1234yf refrigerant to keep personnel and civilians cool, safe, and comfortable. These A/C systems have a much smaller refrigerant charge and require a concentrated, OEM-grade UV dye. Even the smallest leaks can reduce cooling capacity. Simply add dye to the system, scan with a leak detection flashlight, and see all leaks glow brightly.
How do I find Leaks?
Preventive maintenance (PM) for emergency response vehicles (ERVs) is critical for reliability and extending service life. Not having a good PM program can otherwise be detrimental to the department's budget.
Creating a good PM program for an ERV fleet or just upgrading an existing one to meet standards and a fleet's changing needs is not that difficult.
Most ERV original equipment manufacturers (OEMs) provide inspection and service guidelines and recommendations. OEMs can also provide educational training, which many emergency departments include in their standard operating procedures.
NFPA 1911 has various sample PM inspection templates that can be used or modified to meet service needs. Local ambient temperature, terrain, altitude, and climate that can adversely affect the ERV fleet operation.
Regularly inspecting and testing safety items such as air conditioning, steering systems, emergency lighting, and other components is not only vital – it is mandatory by NFPA 1911.
https://www.nfpa.org/codes-and-standards/all-codes-and-standards/list-of-codes-and-standards/detail?code=1911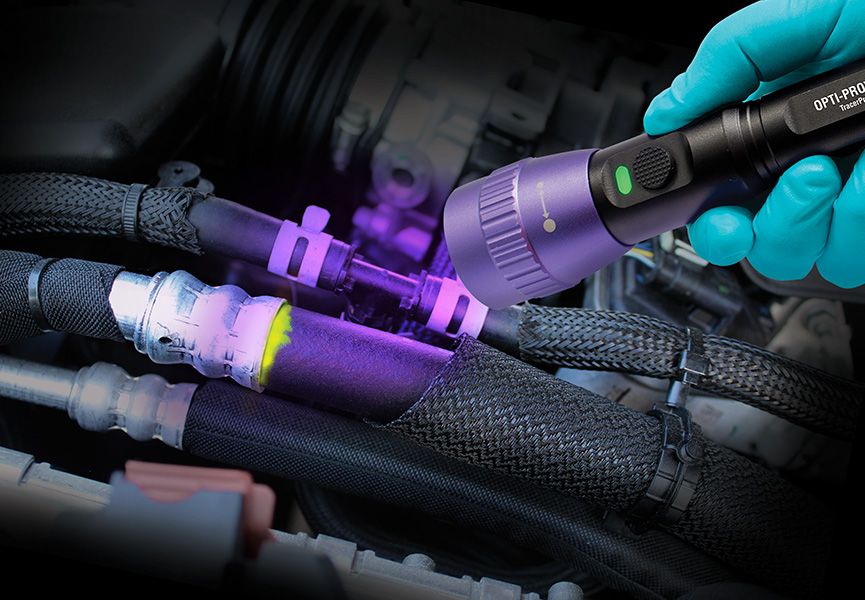 UV Dye Leak Detection
A daily inspection is very useful in finding issues early on. Educated, conscientious drivers can find 30% of problems before they become more costly to repair. A driver equipped with one of our UV leak detection flashlights can easily scan the engine compartment for leaks. If any glowing, fluorescent leak sites are found, a driver can immediately schedule a maintenance call.
The TPOPUV19 UV Leak Detection Kit is the perfect tool for diagnosing R-1234yf air conditioning systems. Each kit comes complete with three Mini-EZ™ dye cartridges, an EZ-Ject™ dye injector assembly, an R-1234yf hose/coupler and purge fitting, and a 2-ounce (60 ml) bottle of GLO-AWAY™ Plus florescent dye cleaner. Also included in the kit is the TPOPUV OPTI-PRO™ UV cordless, violet light leak detection flashlight.
Each Mini-EZ™ cartridge treats one vehicle. These these cartridges can be easily disposed of once the dye is added to the vehicle. Each Mini-EZ™ cartridge is filled with the exclusive Tracerline® FLUORO-LITE® 5 dye formula – the brightest, most advanced fluorescent leak detection dye formula in the world.