In the automotive leak detection and repair world, one company has consistently been at the forefront: Tracer Products. The US-based firm has a heritage of over 60 years and three generations, delivering state-of-the-art leak detection dyes, inspection lamps, and diagnostic tools. Their unrivaled reputation for quality and innovation is evident in the trust that major OEMs bestowed upon the Tracerline brand. As inventors of UV fluorescent leak detection, Tracer Products has revolutionized the industry and has recently received notable recognition for their success.
Tracer Products Triumphs with TEDA
In 2022, Tracer Products experienced an astonishing 47% growth in sales. This impressive achievement didn't go unnoticed. The Tool & Equipment Distributors Associates (TEDA), a buying group that recognizes vendor partners who demonstrate commitment to marketing and growth, awarded Tracer Products with the highly esteemed President's Award for Marketing Growth Achievement.
At the heart of this growth has been a dedicated team led by Tracer Products' Director of National Sales, Gary Testa. "I'm really proud of my team," Testa said. "Delivering a quality sales experience doesn't end with the first invoice. It means listening to what your customers are saying and developing long-term relationships based on serving their needs."
TEDA's criteria for the award are not merely about sales growth. They also judge on the structure of the recipient's group program, the development of exclusive group promotions, and fostering one-on-one relationships with TEDA members. Tracer Products' commitment to customer growth strategies shone brightly, and the company was formally presented with the award during the 2023 Vendor Advisory Meeting's State of TEDA Report.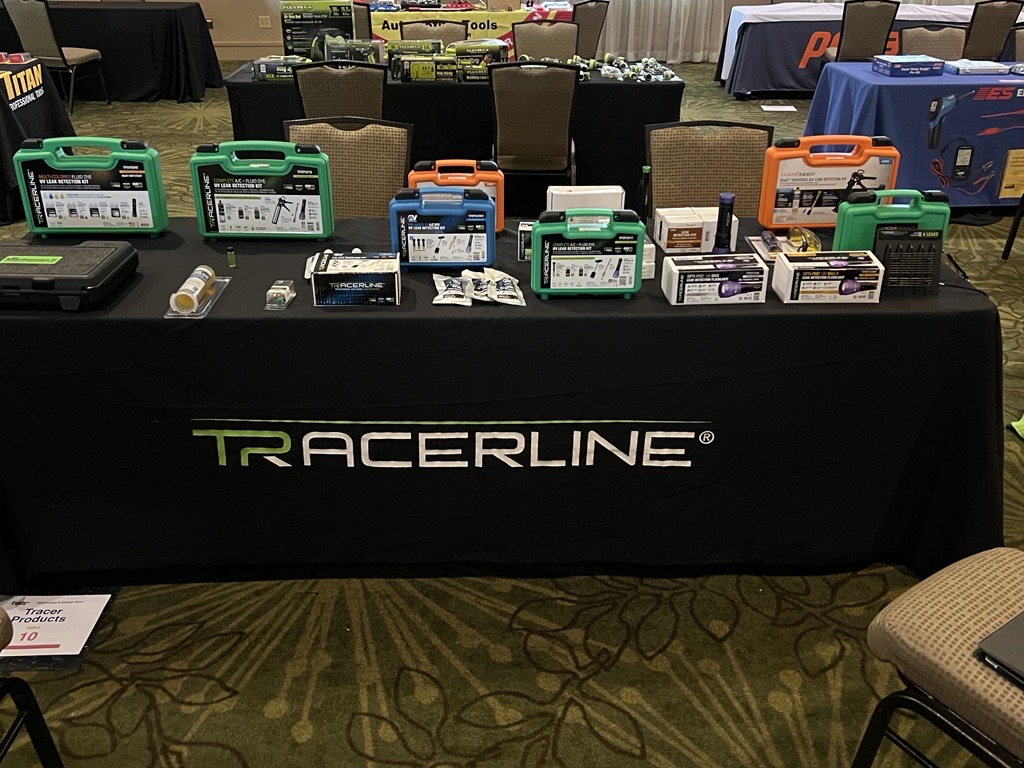 Pushing the Boundaries of Innovation
Tracer Products continues to innovate by introducing a new series of products to address the leak detection needs of the electric vehicle (EV) market. The TPOPUV20EV POE-Based EV A/C dye leak detection kit includes numerous cutting-edge components, ensuring optimal leak detection capabilities for modern EVs.

A key consideration in the development of the Tracerline EV AC dye formula was to maintain high dielectric properties, ensuring system resistivity and, thus, the safety of EV technicians. The product's extensive testing demonstrates Tracerline's commitment to safety and adherence to OEM specifications. Tracerline also keeps an eye on the horizon, engineering its new EV AC dyes to meet the latest standards currently under development for fluorescent leak detection.
In addition to this, Tracer Products showcased the LeakFinder LF200CS AC Sealant with a patented dual-adapter. This novel product eliminates the need for separate hoses for different types of AC systems, enhancing convenience and efficiency. Its non-hardening, oil-soluble formula is compatible with both hybrid and electric vehicle AC systems and promises to seal both immediate and hard-to-find micro-leaks.

Celebrating Success and Looking to the Future
Tracer Products' exceptional growth and the accompanying recognition from TEDA are testaments to their unwavering commitment to quality, innovation, and customer satisfaction. Their products have been used in over 300 million vehicles, a number that is likely to grow exponentially with their continued drive to innovate.
As Tracer Products looks ahead, their focus remains on crafting superior leak detection dyes and delivering high-quality products to their growing customer base. And with their award-winning growth, exciting new product developments, and dedication to customer service, Tracer Products is undoubtedly set to drive the future of the automotive leak detection industry.