As the world's major automobile manufacturers continue to push boundaries, launching a plethora of new electric vehicle models, there's an ever-growing demand for safe, efficient, and reliable component maintenance solutions. Central to this need is the air conditioning system, a key feature ensuring comfortable journeys for all EV drivers. Rising to meet this challenge is Tracer Products, a family-owned company based in the U.S.A. and renowned for its expertise in UV fluorescent leak detection. The company has recently introduced its latest innovation: the TPOPUV20EV POE-Based EV A/C dye complete UV leak detection kit, which takes EV A/C system maintenance to a whole new level.
UV Fluorescent Leak Detection: A Game Changer
To understand the importance of Tracer Products' new solution, we must first delve into the concept of UV fluorescent leak detection. This technology offers a highly accurate method of detecting leaks within various system components, using a special dye and a UV light source. When exposed to UV light, the dye fluoresces, pinpointing the exact location of any leaks. The benefits of this approach are manifold.
One of the key benefits of UV fluorescent leak detection is its accuracy and precision. Traditional leak detection methods are often cumbersome and time-consuming, requiring technicians to meticulously examine each component for potential leakages. UV fluorescent leak detection, on the other hand, allows technicians to quickly and accurately identify leaks, significantly reducing diagnosis time and allowing for swift rectification.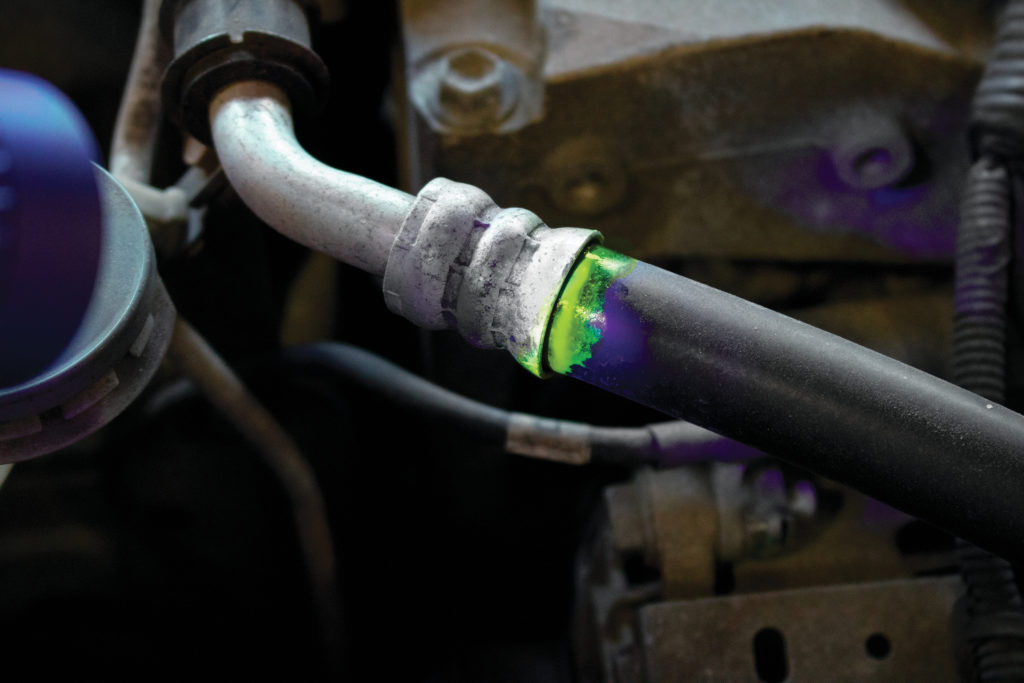 Moreover, UV fluorescent leak detection is non-invasive and non-destructive. By using a dye that circulates through the system naturally, there's no need to dismantle or damage parts to locate a leak. This greatly reduces labor costs, preserves system integrity, and increases the longevity of the components.
The Tracer Products Advantage
The TPOPUV20EV POE-Based EV A/C dye complete UV leak detection kit by Tracer Products is a sophisticated answer to the specific challenges of EV A/C system maintenance. This comprehensive kit includes 3 single-dose Mini-EZ™ dye cartridges, an OPTI-PRO UV flashlight, an EZ-Ject™ dye injector assembly, a solid-brass swivel-type R-134a coupler, an R-1234yf adapter, GLO-AWAY™ Plus, glasses, and a medium blue carrying case.
The dye cartridges contain Tracerline's EV A/C dye, which is specially formulated to maintain high dielectric properties, a crucial element for EV technicians' safety. Without this, the electrically-driven compressor could become conductive, posing potential threats. Tracerline rigorously tests its EV dye products to ensure system resistivity is preserved, in line with OEM specifications.
Additionally, these products are sealed in a special foil packaging that keeps moisture at bay, a testament to the company's thoughtful engineering and design process. From manufacturing to packaging, and from storage to end-use, Tracer Products ensures its EV AC dye system provides the best solution to technicians, enabling quick, precise leak detection while ensuring safety.

The EV AC dyes also meet the latest standards for fluorescent leak detection currently in development, demonstrating Tracer Products' commitment to meet the industry's stringent guidelines and its proactive approach to designing products that cater to the industry's evolving needs.
A History of Innovation
Proudly boasting over 60 years of industry experience, Tracer Products has been at the forefront of UV fluorescent leak detection innovation, being the original inventors of this transformative technology. With over 300 million vehicles worldwide having used Tracerline's UV fluorescent leak detection dyes, the brand's reputation for quality and integrity is well-established.
Behind this success is a legacy of family ownership that spans three generations. This longevity, coupled with a commitment to delivering award-winning professional service and the most potent leak detection dyes, inspection lamps, and diagnostic tools, underlines the company's industry-leading position.
The launch of the TPOPUV20EV POE-Based EV A/C dye complete UV leak detection kit marks another milestone for Tracer Products. This new product offering not only showcases their dedication to the advancement of EV A/C system maintenance, but also further solidifies their position as a frontrunner in the UV fluorescent leak detection industry.
In the rapidly evolving world of EVs, Tracer Products continues to lead the way, providing technicians with the tools they need to ensure the quality and system integrity of EVs worldwide, while reaffirming the company's status as a leader in the development and production of superior leak detection solutions.