The Tracer Products team had an excellent showing this year at AAPEX, and we are proud to announce our new selection of Tracerline POE-Based EV AC dye products made specifically for new electric vehicle systems. Over the past few years, Tracer Products invested resources into research and development. We're proud to debut a portfolio of products that includes a complete leak detection kit, dyed oil, and standalone EV oil to meet all AC service needs.
As our OEM partners develop new technologies, Tracer Products is in lockstep with the latest advancements in EV trends and system designs. Similarly, our key OEM customers are excited about fully compatible EV AC dye products for electrically-driven AC compressors. As the leader in fluorescent leak detection technology, all of our products are rigorously tested to meet OEM specifications.
New Product Line Debut at AAPEX Show 2022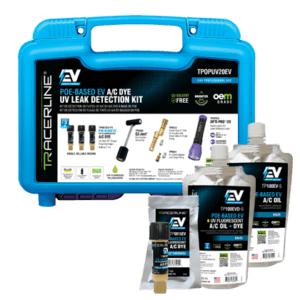 The new TPOPUV20EV POE-Based EV A/C dye complete UV leak detection kit includes 3 single-dose Mini-EZ™ dye cartridges, OPTI-PRO UV flashlight, EZ-Ject™ dye injector assembly, solid-brass swivel-type R-134a coupler, R-1234yf adapter, GLO-AWAY™ Plus, and glasses and medium blue carrying case.
The EV AC dyes products are sealed in special foil packaging that protects the contents from moisture ingression. Tracer Products has thoughtfully engineered and designed the entire system application process, from manufacturing and packaging to storage and end-use.
The Tracerline EV AC dye formula has high-dielectric properties in order to maintain system resistivity. This product characteristic is critical to ensuring the safety of EV technicians. If a lesser quality product is used in an EV AC system, the electrically-driven compressor could become conductive and pose a threat to technicians. Tracerline extensively tests its EV dye products to ensure system resistivity is maintained according to OEM specifications. Similarly, Tracerline has engineered the new portfolio of EV AC dyes to meet the latest SAE standards for fluorescent leak detection currently in development.
A/C Leak Sealant Joins the LeakFinder Brand
Additionally, Tracer Products highlighted the LeakFinder LF200CS AC Sealant with its patented dual-adapter. The specially designed adapter eliminates the need to maintain hoses for R-134a and R-1234yf AC systems. The LF200CS adapter can connect directly to the system and doesn't require an injection hose. The LeakFinder sealant formula can be used to seal leaks in R-134a and R-1234yf AC systems. The LF200CS has the additional benefit of fixing immediate leaks, sealing difficult to find micro-leaks, and can stay in the system for ongoing sealing protection.
The LeakFinder LF200CS AC Sealant is also compatible with both hybrid and electric vehicle AC systems. The LeakFinder sealant is different than other products available because it has a non-hardening, oil-soluble formula. The LF200CS is fully compatible with system specifications and is AC machine and equipment safe (RRR). The LeakFinder sealant circulates entirely throughout the AC system and seals leaks in evaporators, condensers, o-rings, hoses, and other deteriorating system components.
Thank you very much to all who could attend the AAPEX Show 2022 and see our suite of new products. Whether it be developing new EV AC dyes for emerging technologies or meeting the needs of the automotive aftermarket, Tracer Products' two brands cover all leak detection requirements. Tracerline OEM/Professional Grade Solutions and LeakFinder Aftermarket Solutions continue to lead the market with award-winning service tools and innovative products to meet the needs of the market. Learn more about our presence at AAPEX from our video recap, and please reach out to the team for more information about exciting new line of products: orders@tracerproducts.com
Watch Our 2022 AAPEX Show Recap Video