Tracer Products at 2022 Tech Expo

LeakFinder for Aftermarket Applications
The LeakFinder brand is Tracer Products' cost-effective solution for end-users in the automotive aftermarket. LeakFinder products are perfect for finding small, sporadic leaks in automotive AC and fluid systems. Learn more from our Tracer Products staff at the 2022 Tech Expo!
LeakFinder Universal AC Dye (LF1001) works with all automotive air conditioning systems containing R-134a, R-1234yf, or other widely used refrigerants and will not affect system properties or alter how the equipment works.
LeakFinder Oil-Based Dye (LF2001) pinpoints leaks in automotive systems containing oil, fuel, transmission fluid, power steering fluid, and more.
UV dyes can also be introduced to coolant-based systems and be used to treat leaking radiators, hoses, and critical system parts. LeakFinder Coolant Dye (LF3001) can be used with all conventional coolants and is compatible with all blue/violet/UV leak detection flashlights.

Total System Leak Detection
The LeakFinder brand provides a comprehensive set of fluorescent leak detection dyes for pinpointing ALL circulating fluid leaks. Grab attention and drive sales with a complete offering of leak detection products for all automotive systems. Arrange the product however you want. LeakFinder clamshells enable distributors to customize product placements on slat walls, AC carts, pegboards, and other display configurations. LeakFinder retail products can accommodate any retail space. Learn more from our Tracer Products on-site at the 2022 Tech Expo!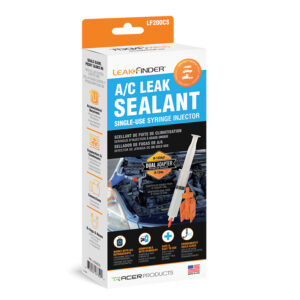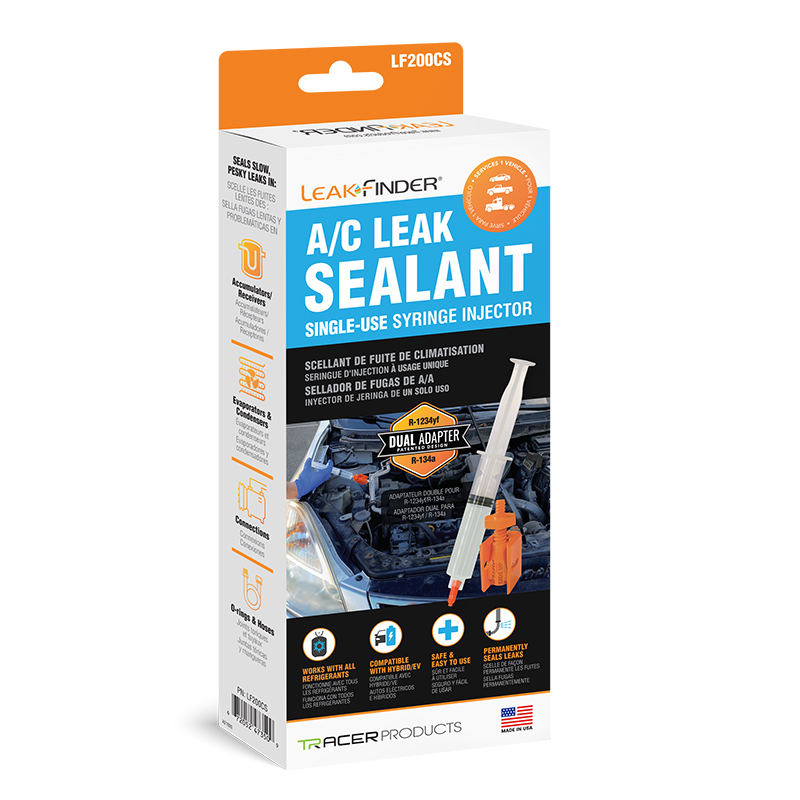 New! LeakFinder AC Leak Sealant
The LeakFinder LF200CS AC Leak Sealant seals pinhole leaks in accumulator/receivers, evaporators, condensers, O-rings, hoses and more. The patented DUAL-ADAPTER can connect to either R-134a or R-1234yf systems. Fix hard-to-find leaks and extend the service life of the AC system. The powerful sealant formula is also compatible with electrically-driven AC compressors used in hybrid/electric vehicles. Prevent new leaks from developing and provide ongoing sealing protection with the LF200CS AC Leak Sealant.
Visit Tracer Products 2022 Tech Expo Booth #118 to learn more about this exciting new product!
ABOUT TRACER PRODUCTS
Proudly made in the U.S.A., Tracer Products is a family-owned company with three generations of experience in delivering award-winning professional service and the industry's most powerful leak detection dyes, inspection lamps and diagnostic tools. Today, major OEMs around the world trust the Tracerline brand. Over 300 million vehicles have used Tracerline's UV fluorescent leak detection dyes to ensure quality and system integrity. For more than 60 years, Tracer Products has engineered the highest-quality, premium performance leak detection dyes and products. As the inventors of UV fluorescent leak detection, we take pride in crafting the most superior leak detection dyes in the industry.