Preventative Maintenance Saves Time
Preventative maintenance can save your company's vehicle fleet hundreds – even thousands – of hours per year. Vehicle downtime hurts productivity and is six times costlier than an emergency, corrective maintenance. Preventative maintenance reduces the amount of time it takes to keep a vehicle in optimal working condition and can detect problems before they become much worse.
The diagram below depicts the amount of vehicle downtime over the course of a year. The fleet manager of this organization has no preventative maintenance plan in place. The manager relies solely on corrective maintenance to maintain the fleet.

Within this timeframe, four breakdowns occurred totaling 417.6 working hours of downtime for corrective repair.
The vehicle up-time totaled around 80.8% for the year.
The next diagram depicts vehicle downtime AFTER a preventative maintenance plan has been implemented.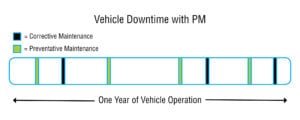 In the diagram above, the intervals of downtime are much smaller and more frequent.
Over the course of a year, vehicle up-time was recorded at 95%.
The vehicle was taken out of operation for short periods of time, inspected, and serviced appropriately.
During these scheduled events, potential problems can be identified early on and preemptive repairs can be made.
These small repairs ultimately saved the company more hours because the vehicles didn't suffer a critical failure that would have otherwise taken much longer to repair.
When a vehicle breaks down for unknown causes, it takes much longer to diagnosis the problem. Having an up-to-date record of maintenance for every vehicle decreases the time it takes to diagnose a problem.
Remember, downtime is largely based on parts availability and delivery. It takes a lot of time and effort to coordinate the logistics of the repair. For fleet managers, time is the ultimate currency.
Summary of Results:
Without preventative maintenance: 417.6 hours of downtime.
With a preventative maintenance plan: 104.4 hours of downtime.
Total time saved by utilizing a preventative maintenance plan: 313.2 hours of time saved throughout the year.
The up-time for the company (with a PM plan in place) was found to be at 95.1%.
Adopting a preventative maintenance plan ended up saving about 313.2 hours in lost downtime due to breakdowns or missing parts.
Cycles of Maintenance
Cycles of maintenance can either be negative or positive.
A negative cycle of maintenance involves emergency repairs. These emergency repairs lead eventually to more emergency repairs.
How does this happen?
Because emergency repairs are time-consuming and costly, these repairs naturally steal time away from the maintenance of your existing equipment.
Reactive maintenance leads to more work.
Once you are in this negative cycle of maintenance, it's very difficult to escape.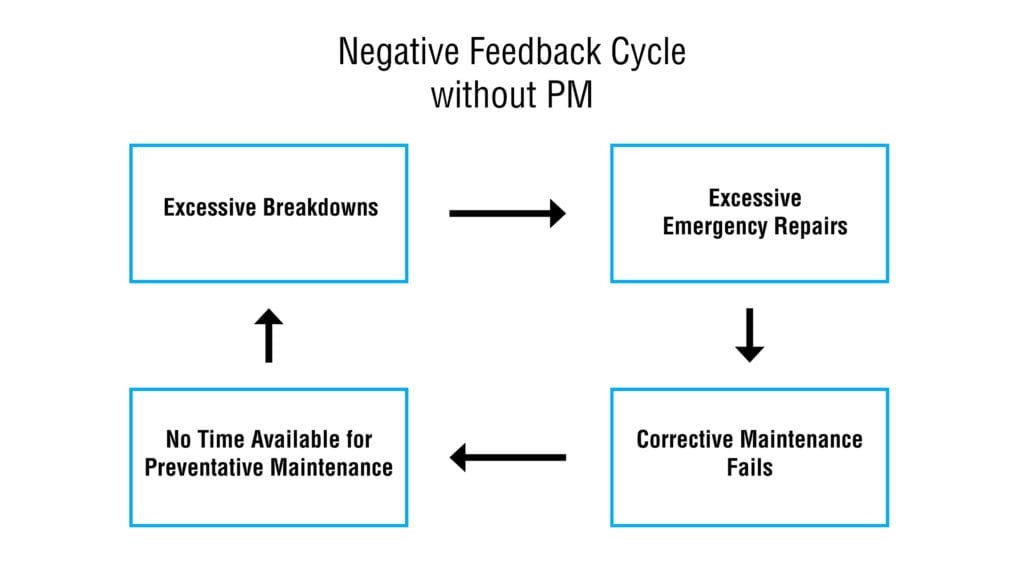 A company can quickly become comfortable with jumping from emergency to emergency.
The corporate culture becomes reactive – always needing to adapt and catch the next emergency.
Company culture can decide if a business thrives or fades.
If your organization is small, it may be too difficult to step back, stop reacting to the situation, and take a measured look at how your business is operating.
In cases such as these, it's very difficult to analyze and manage company resources.
Excessive breakdowns lead to emergency overtime hours and further deplete company resources. This prevents your company from breaking the negative cycle.
Stop the cycle of constant losses and wasted effort. Begin a new, prosperous cycle.
Because all company resources are busy making emergency corrective repairs, equipment that would otherwise be operational with regular maintenance now has the potential to breakdown and become unusable.
The positive cycle of maintenance is self-perpetuating.
Although breakdowns are inevitable and equipment cannot last forever, company resources are more appropriately managed in a positive cycle of maintenance.
A PM plan helps your business make the right decisions and frees up resources.
A positive cycle of maintenance experiences few emergency breakdowns. This means there are less emergency hours and there are time and money available to invest in other areas of business development.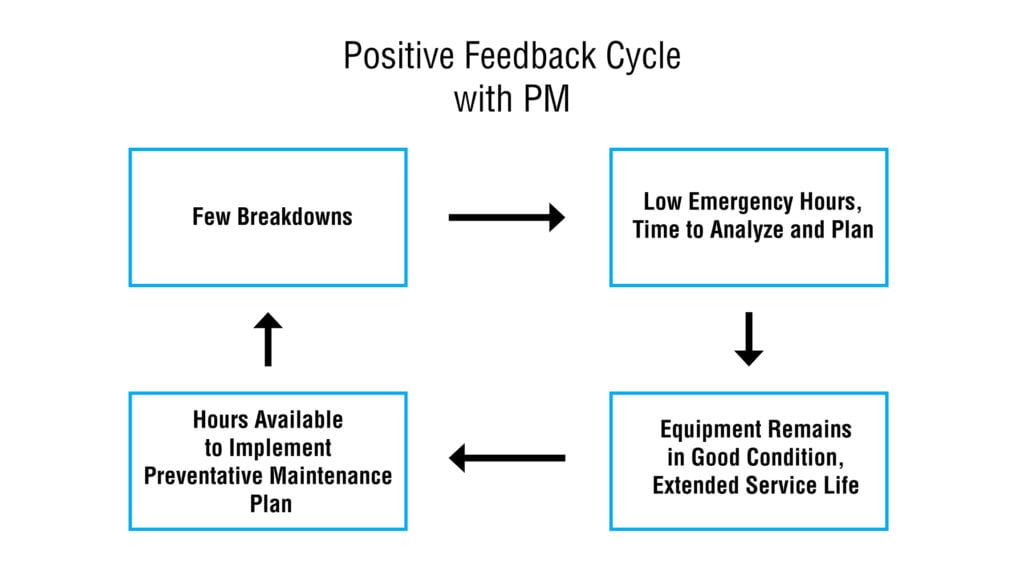 The reason why many businesses don't adopt effective PM plans is simple.
Business owners see preventative maintenance as an expense. But they should really see it as an investment.
In competitive markets, having optimized operations can help your company reduce costs and ultimately lower your prices for the consumer.
Similarly, preventative maintenance goes hand-in-hand with quality control and excellence in service.
Preventative maintenance means your standardizing your operations.
Great PM plans only work if all gears are moving in the same direction.
Quality and consistency naturally improve with a PM plan. It's a byproduct and the net positive of having a detailed plan.
Your customers will thank you for your top-tier service and consistency.
The TP-8692 UV Multi-Colored Fluid Dye Kit
If a vehicle is consistently losing operational fluid in between inspections, this is an indication of a leak and that means there's a serious problem.
Leaks can be big or small. If the leak is substantial, the vehicle system will shut down and stop working altogether.
But smaller leaks can erode at system integrity over a longer period of time, inflicting damage slowly and perhaps unnoticed.
In cases such as these, the UV Multi-Colored Fluid Dye Kit is the perfect preventative maintenance solution.
The color-coded fluorescent dyes detect leaks quickly and effectively across multiple systems during a single scan.
Even the smallest and most difficult leaks can be detected.
In a 2016 industry report, it was found that preventative maintenance tools, such as ultraviolet fluorescent leak detection, can stop ¼ of all vehicle system failures – saving car owners hundreds or even thousands of dollars per year.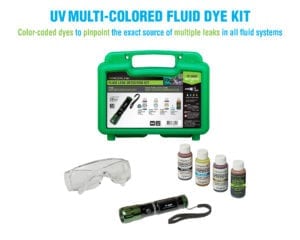 With a set of color-coded leak detection dyes, a single technician can diagnosis leaks across multiple vehicle systems.
The kit includes three color-coded dyes for petroleum and synthetic-based fluids: white dye, yellow dye, and blue dye (red dye is sold separately). These multi-color dyes allow a technician to check for transmission, brake, oil, fuel, power steering, and other fluid-based leaks.
The kit also includes a specially designed green fluorescent dye for conventional coolant.
Tracerline's UV dyes are concentrated, safe to use, and they won't affect the vehicle system's chemical properties or change how the fluid works.
These specialty dyes can remain safely within the fluid system.
That means once the repair is made, the dye can be used as part of a preventative maintenance program.
Every time a customer comes back to have their vehicle serviced, all a technician has to do is scan the vehicle's system with a UV leak detection lamp.
If there are new leaks in the system, the fluorescent dye will glow brilliantly and indicate the exact location of all new leaks, across all fluid-based vehicle systems.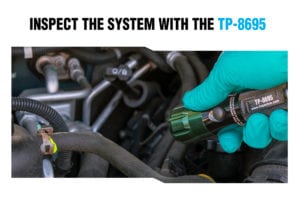 Tracerline's UV Multi-Colored Fluid Dye Kit has been featured on the cover of Professional Tool and Equipment Magazine's December 2017 Issue.
It is the first and only completely customizable, color-coded leak detection kit for all fluid-based vehicle systems.