The Tracerline TP-9367L MARKSMAN II for Heavy-Duty and Fleet Maintenance
In today's age of rapid technological advancement, tools that cater to the specific needs of heavy-duty automotive applications, such as fleet maintenance, are not only desired but essential. One such tool that has captured the attention of professionals and technicians alike is the Tracerline TP-9367L MARKSMAN II Ultrasonic Diagnostic Tool. Designed to perfection, the MARKSMAN II brings numerous benefits to the table, significantly enhancing the overall efficiency and effectiveness of maintenance tasks. In this blog post, we delve into the myriad advantages of this formidable tool for the world of automotive heavy-duty and fleet maintenance.
Precision in Diagnostics: One of the main challenges that technicians face in heavy-duty vehicle maintenance is accurately detecting and diagnosing problems that may not be immediately apparent. With its ultrasonic capabilities, the MARKSMAN II can detect the minutest of sounds – whether it's a minor leak, electrical discharges, or even friction in various parts. This precision ensures that technicians can address potential issues before they escalate, saving both time and money.
Versatility in Application: The MARKSMAN II isn't just restricted to identifying leaks. Its applications span across detecting faulty valves, problematic injectors, and even issues related to bearing wear and tear. For fleet maintenance, where a variety of vehicles with different systems are involved, such versatility is invaluable.
Saves Time: Traditional diagnostic tools often require a lot of time, sometimes even hours, to identify a problem. The MARKSMAN II, with its advanced ultrasonic technology, significantly reduces the time it takes to diagnose an issue, enabling technicians to address more vehicles within a given timeframe.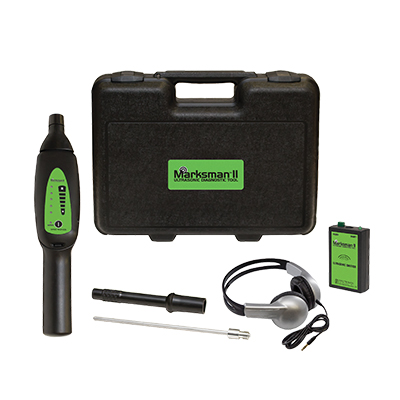 Non-Invasive Diagnostics: One of the major benefits of ultrasonic diagnostic tools is their non-invasive nature. Rather than disassembling parts to identify a problem, the MARKSMAN II can detect issues externally. This not only reduces the risk of additional damage during inspections but also ensures that vehicles are back on the road faster.
Enhances Preventative Maintenance: With its capability to detect even the smallest irregularities, the MARKSMAN II is a boon for preventative maintenance. Fleets can be regularly checked for any potential issues, ensuring that minor problems are rectified before they morph into major, costly repairs.
Cost-Efficiency: The initial investment in the Tracerline TP-9367L MARKSMAN II is quickly offset by the savings it provides in the long run. By detecting and addressing problems early on, fleets face fewer breakdowns, ensuring minimal downtime and reduced repair costs.

User-Friendly Design: The design of the MARKSMAN II has the user in mind. It is lightweight, ergonomic, and comes with headphones that block out external noises. This ensures that technicians can use the tool for extended periods without discomfort, improving overall productivity.
Robust and Durable: Given that fleet maintenance can be a rough and tough job, tools need to be durable. The Tracerline TP-9367L MARKSMAN II is built to last, ensuring that technicians don't have to repeatedly invest in replacements.
In conclusion, the Tracerline TP-9367L MARKSMAN II Ultrasonic Diagnostic Tool is not just a tool but a game-changer for the automotive heavy-duty and fleet maintenance sectors. It brings together the best of technology and design, ensuring that fleets run smoothly, efficiently, and with minimal downtime. For fleet managers and technicians who are keen on enhancing their maintenance game, the MARKSMAN II is an investment that promises exceptional returns.