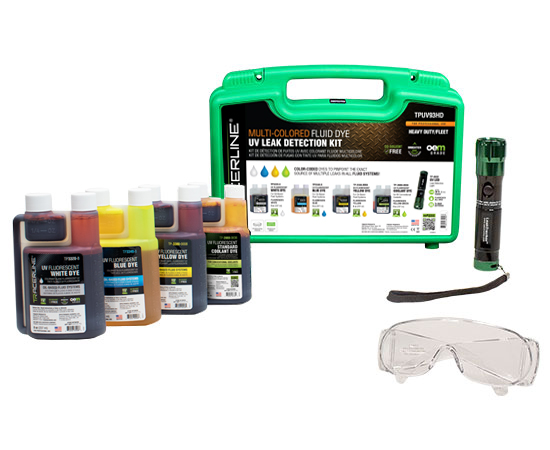 TPUV93HD
Multi-Colored Fluid Dye UV Leak Detection Kit for Heavy Duty/Fleet
Pinpoint the exact source of multiple leaks in color.
The leak detection kit includes three color-coded dyes for petroleum and synthetic-based fluids: white dye, yellow dye, and blue dye. The kit also includes a specially designed green fluorescent dye for conventional coolant.
By offering a kit with color-coded dyes, a technician can quickly isolate and identify multiple leaks in multiple vehicle systems.

Where to Buy
Comparable to discontinued part # 's


• TP-8693HD
Kit Includes
| | |
| --- | --- |
| Product No. | Description |
| TP-8695 | UV LED cordless, leak detection flashlight |
| TP3320-8 | 8 oz (237 ml) bottle of dye for all circulating oil-based fluids, fluoresces white, services up to 8 vehicles |
| TP3340-8 | 8 oz (237 ml) bottle of dye for all circulating oil-based fluids, fluoresces blue, services up to 8 vehicles |
| TP-3380-0008 | 8 oz (237 ml) bottle dye for all circulating oil-based fluids, fluoresces yellow, services up to 8 vehicles |
| TP-3900-0008 | 8 oz (237 ml) bottle of Standard Coolant dye, fluoresces yellow-green, services up to 8 vehicles |