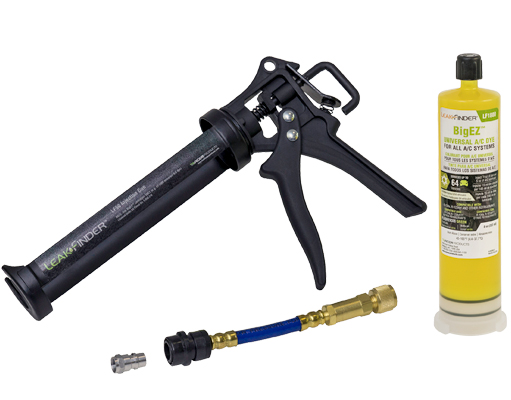 LF810 | BigEZ™ Dye Injection Kit
For high-volume shop applications, LeakFinder® provides the LF810 Dye Injection Kit.
The kit contains a built-to-last, "caulking gun-style" injector. The dye delivery cartridge (LF1800) contains 8 oz. of universal A/C dye that services up to 64 vehicles.
There's no down-time between swapping out the pre-filled cartridge and there's no loss of dye due to spillage.
Kit Includes:
Caulking gun-style dye injector assembly
R-134a/PAG hose/coupler with purge fitting*
8 oz (237 ml) BigEZ™ Universal multi-dose A/C dye cartridge
*R-1234yf systems require 128185 adapter (sold separately).