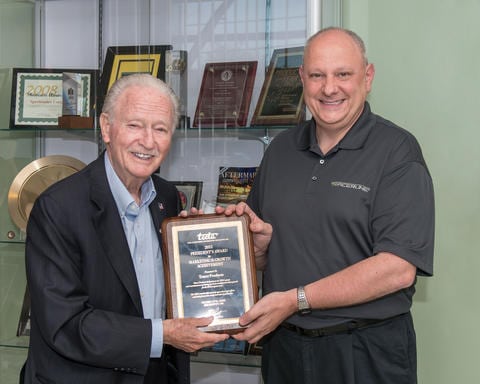 Tracer Products, the automotive division of Spectronics Corporation, has earned the prestigious Tool & Equipment Distributors Associates (TEDA) 2015 President's Award for Marketing & Growth Achievement. TEDA recognizes its vendor partners that achieved volume growth over the prior year and demonstrated their commitment to marketing.
Tracer Products snagged this honor by growing its business lines an impressive 12% in 2015.
"I'm really proud of my team," says Gary Testa, Tracer Products' OEM and National Sales Manager, who led the successful business increase. "Delivering a quality sales experience doesn't end with the first invoice. It means listening to what your customers are saying and developing long-term relationships based on serving their needs."
TEDA's Marketing Committee also judges recipients' achievements in the structure of their group program; participation in pool buys and developing exclusive group promotions; advertising in the TEDA Tool Box; and administration, communication and follow up.
Tracer Products was presented the award during the State of TEDA Report at their 2016 Vendor Advisory Meeting.
"This isn't just an achievement of dollars and cents for Tracer Products," says Glen Pratt, president of TEDA. "It's proof that utilizing the best practices of TEDA leads to positive outcomes for our members and their customers."
Accepting the award (see photo) are Tracer Products' Gary Testa (right), featured with Spectronics' founder and chairman Bill Cooper (left). In 1955, Cooper invented fluorescent leak detection for the automotive industry.
From that transformative innovation more than six decades ago, today Tracerline® fluorescent dyes are so effective that they have been successfully installed in more than 205 million cars and trucks by vehicle manufacturers in the U.S., Japan, Germany, the U.K., Italy, France, Sweden, China, Brazil, Mexico and Korea.
For more information about Tracer Products, please call us at (800) 641-1133.
Outside the U.S. and Canada, call (516) 333-1254.