More than a year in the making…the enhanced site is designed to reflect the company's emergence as a new, leading player in the highly competitive, global automotive aftermarket. In 2015 Tracer grew its business lines an impressive 12%.
The retool of Tracer' automotive and fleet management leak detection tools website is designed to provide both the company's existing vendors, as well as new partners, an enhanced interface on all levels.
The updated aesthetic is clean, bright and draws the eyes in with its sharp graphics. Demo videos are produced with a distinctive and engaging style that entertain as well as explain. But it's much more than just new lines and sleek a redesign. "Under the hood" is a powerful and fast search engine that navigates users where they want to explore with an intuitive and responsive clickability. No matter if your platform is on a platform or on the go, Tracer has been optimized for mobile interaction too.
"Our customers and their customers are busy people," says Gary Testa, Tracer Products' OEM and National Sales Manager, who led the successful 2015 business expansion. "This redesign reflects what they want to see from us, our products and how we are working to capitalize on our growth."
Responding to the demands from vendors in emerging markets who want to add the Tracer brand to their SKU's, the new multilingual feature makes the entire site and all its offerings available in Spanish, German, French and Chinese. While the Tracer is web team is already in the process of adding even more languages, Dan Tristan, Tracer's International Sales Manager for the Latin America and Asia-Pacific regions encourages users whose language is not yet on the platform to contact Tracer.
"Every week I hear from new vendors who know the Tracer brand and want to partner with us in their country," says Tristan. "I tell them to email our team so we can help you increase your business in your customers' language."
In 1955, Spectronics founder, Bill Cooper, invented fluorescent leak detection for the automotive industry. From that transformative innovation more than six decades ago, today Tracerline® fluorescent dyes are so effective that they have been successfully installed in more than 205 million cars and trucks by vehicle manufacturers in the U.S., Japan, Germany, the U.K., Italy, France, Sweden, China, Brazil, Mexico and Korea.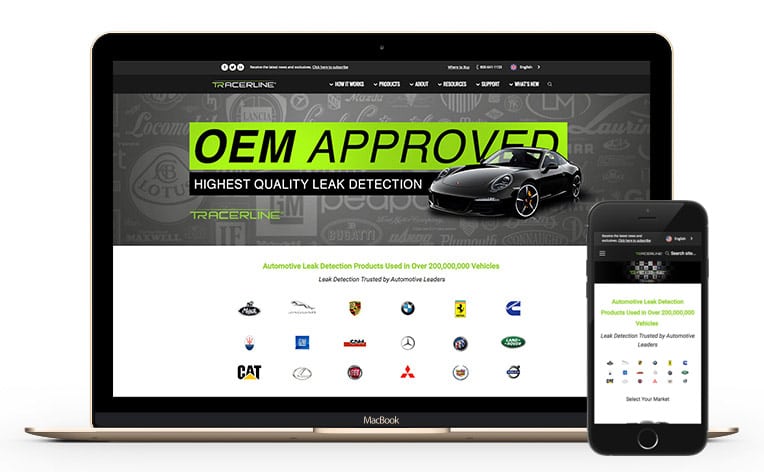 "A sleek, modern, clean and fresh redesign."
— Kristen Crawford Graphic Designer
"Powerful search 'engine' capabilities 'under the hood'."
— Hez Hossain Webmaster
"Stunning, mag and maxed out images, demos and product videos."
— Ruth Krueger Senior Media Producer
"It's even more responsive, especially on your mobile device."
— Paul Perillie Social Media Specialist
 "Global multilingual versions are just a click away."
— Dan Tristan Global Sales Manager