WESTBURY, NY— The LeakFinder® SOLO-SHOT™ Single-Use Syringe Universal A/C Leak Detection Kit (LF040CS) provides quality leak detection for all automotive air conditioning systems using R-134a, R-1234yf, or other widely used refrigerants. This kit utilizes fluorescent leak detection dye technology to pinpoint the exact source of all system leaks. Once the dye is added to the system, it circulates throughout and then exits at all leaks sites. When the escaping dye is exposed to high-intensity light, it fluoresces brilliantly and identifies all system leaks.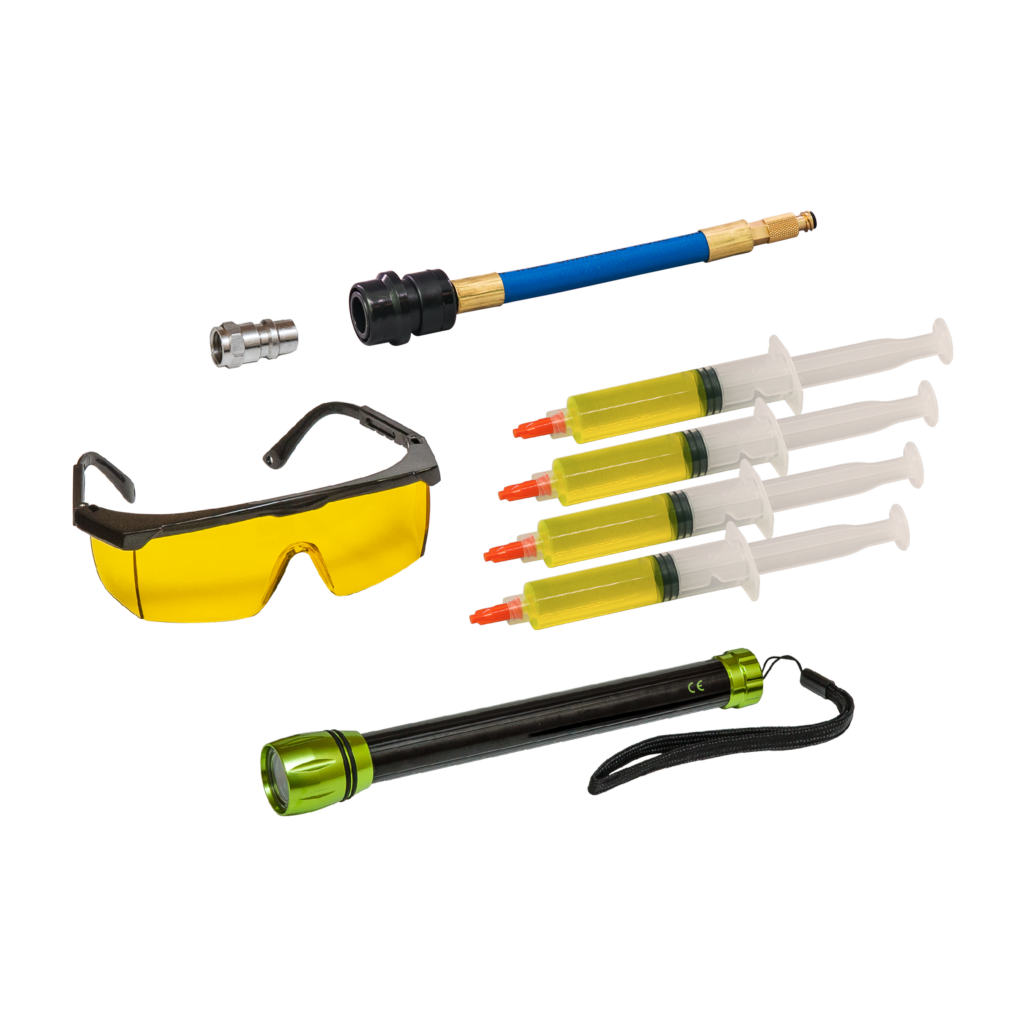 The LF040CS kit comes with 4 disposable syringes designed for a quick and easy injection. Each syringe is prefilled with the correct amount of dye for the application. There's no measuring involved and no loss of dye due to spillage. The kit includes the LF400, a powerful blue light LED leak detection flashlight. This economical lamp has an inspection range of 6 feet and 100,000 hours of operational life. The LF400 offers optimal inspection coverage of a vehicle's air conditioning system and allows the user to scan for escaping fluorescent dye in the tightest and hardest to reach spaces.
The SOLO-SHOT™ kit also includes fluorescence-enhancing glasses, underhood service labels, a R-134a hose/coupler, and a purge fitting. SOLO-SHOT™ replacement syringes are available in quantities of 6 per package. Hardware for R-1234yf applications is sold separately.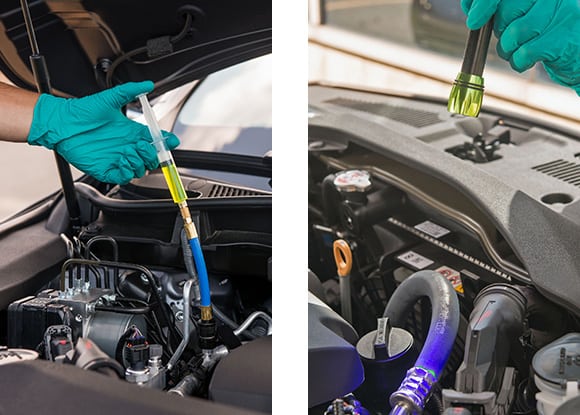 The LeakFinder® product line is a Tracer Products brand that specializes in cost-effective, leak detection dyes and solutions for the automotive aftermarket. LeakFinder® dyes meet SAE J2297 standards for automotive A/C leak detection and are completely safe to use. LeakFinder® dyes are concentrated and fluoresce much brighter than similar products in the same price category. By developing cost-effective solutions for the automotive aftermarket, the LeakFinder® brand offers innovative products that are crafted with the technician in mind.
About Tracer Products:
Headquartered in Westbury, New York, Tracer Products has been at the forefront of leak detection technology for over 60 years. Tracerline® fluorescent dyes are so effective they have been successfully installed in more than 275 million vehicles to date, and are OEM approved by Acura, Audi, BMW, Honda, Ford, GM, and Volkswagen, among others. In addition to fluorescent dyes, the company offers a full line of rugged, top-quality, award-winning leak detection lamps, diagnostic tools, and dye injection systems used in automobiles and heavy-duty vehicles. Tracer Products is dedicated to upholding high standards in design manufacturing, ensuring customer satisfaction and in continuing to lead the world in leak detection solutions. For additional information, call toll-free 1-800-641-1133. Outside the U.S. and Canada, call 516-333-1254. Website at www.tracerproducts.com