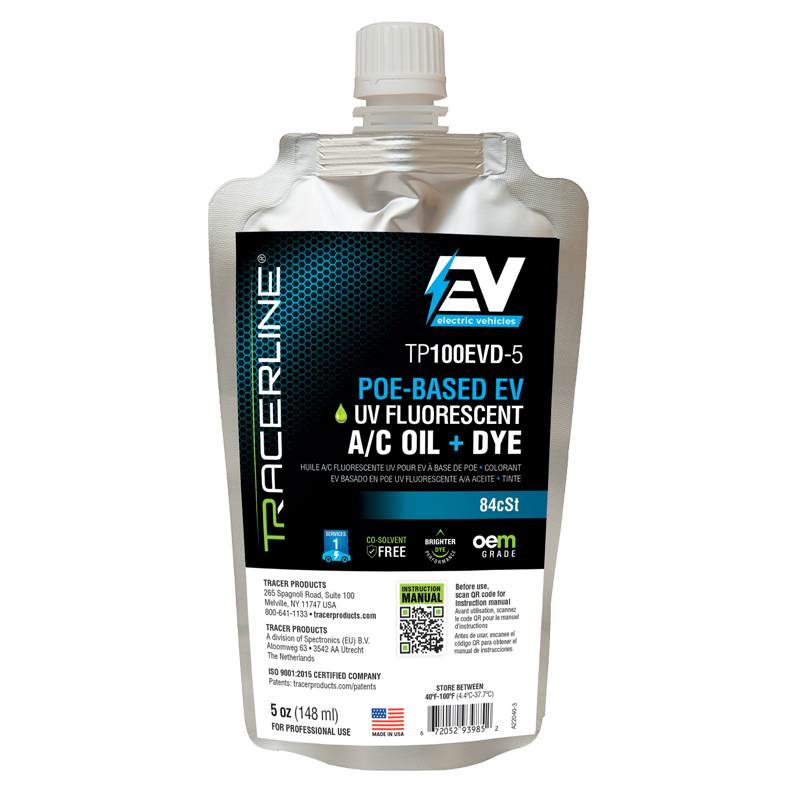 TP100EVD-5
POE-Based EV A/C OIL + UV DYE
TP100EVD-5 EV A/C Oil + UV Dye compatible with R-134a & R-1234yf systems sealed in a moisture-resistant foil pouch.. Protects against contamination. Simple pour, easy to use. For replenishing A/C compressor oil. For installation and remanufacturing. Perfect for preventative maintenance.
EV A/C Dye engineered for new EV technology and system designs. High dielectric qualities protect all EV system components, including electrically driven compressors. Compatible with R-134a & R-1234yf systems.
Maintains system resistivity with concentrated formula.
Manufactured with specialized OEM-grade compressor oil for EV.
Individually sealed in foil packaging to protect against moisture.
Where to Buy
| | |
| --- | --- |
| Product No. | Description |
| TP100EVD-5 | 5 oz (148 ml) foil pouch POE-Based A/C oil with fluorescent dye for electric vehicles |