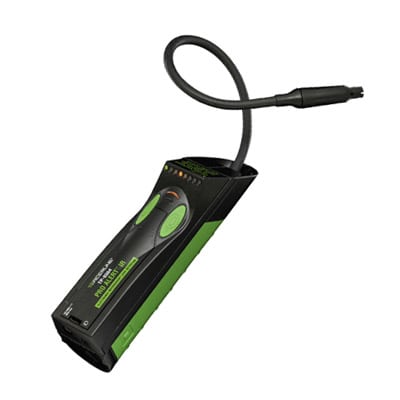 TP-9364 PRO-Alert™ IR
Electronic Refrigerant Leak Detector
Utilizes state-of-the-art infrared sensor technology. Meets SAE J2791 and J2913 performance standards.
Where to Buy
User-selectable, three-position sensitivity switch minimizes false triggering and allows for easy diagnosis of small, medium and large leaks
Sensitive to R-12, R-134a, R-1234yf and other refrigerants. Sensitivity detects leaks down to 0.1 oz/year (3 g/year)
Infrared sensor provides consistent response and cannot be "poisoned" by exposure to large amounts of refrigerants
High-efficiency air sampling pump provides quicker response and quicker clearing ("zeroing")
Audible alarm and multiple LEDs help locate leaks fast
Includes: sensor, replacement filters, AC power adapter, DC power adapter with cigarette lighter plug and rugged carrying case. AC adapter available in 120V, 230V, 240V and 100V versions.