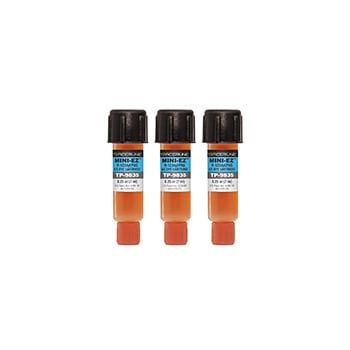 Mini-EZ™
Single Dose A/C Dye Cartridges – Glows Bright!
Pre-filled, pre-measured and disposable!
The quickest, easiest and most accurate way of servicing 1 vehicle with dye!
Where to Buy
Mini-EZ cartridges are prefilled, premeasured with solvent-free A/C dye, certified to meet SAE standard J2297.
Each Mini-EZ ¼ oz. dye cartridge services 1 vehicle.
Available in convenient 6-packs for standard A/C systems or box of 3 individually foil-wrapped cartridges for hybrid A/C systems.

Formulated with OEM-Grade Lubricant.
| | |
| --- | --- |
| Product # | Description |
| TP-9835-0301 | 3 - Mini-EZ™ ¼ oz (7.4 ml) cartridges for R-1234yf/PAG |
| TP-9865-0601 | 6 – Mini-EZ™ ¼ oz (7.4 ml) cartridges for Universal/Ester |
| TP-9875-0601 | 6 – Mini-EZ™ ¼ oz (7.4 ml) cartridges for R-134a/PAG** |
**OEM Approved