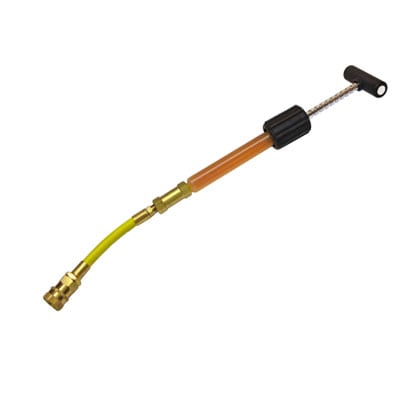 EZ-Ject™ Injection System
Multi-Dose and Mini-EZ™ Single-Dose A/C Dye Injection Systems – Simplest!
The fast and easy way to add Fluoro-Lite® fluorescent dyes into vehicle air conditioning systems — without the use of additional refrigerant. Just one connection, then turn the handle to inject the dye — no complicated hookups. The dye remains safely in the system for future inspections, making it ideal for preventative and scheduled maintenance.
Where to Buy
Hookup diagram for EZ-Ject™ Multi-Dose Dye Injection System

Hookup diagram for Mini-EZ™ Single-Dose Dye Injection System

Product #
Description
TP-9824
EZ-Ject™ R-1234yf Dye Injection Kit
1 – EZ-Ject™ dye injector assembly
0.5 oz (15 ml) EZ-Ject™ R-1234yf/PAG A/C dye multi-dose cartridge, services up to 14 vehicles
1 – R-1234yf Hose/coupler with purge fitting
TP-9834
Mini-EZ™ R-1234yf Dye Injection Kit
1 – EZ-Ject™ dye injector assembly
3- 0.25 oz (7 ml) Mini-EZ™ R-1234yf/PAG A/C dye multi-dose cartridge, services up to 14 vehicles
1 – R-1234yf Hose/coupler with purge fitting
TP-9848
EZ-Ject™ R-134a/PAG A/C Dye Injection Kit
1 – EZ-Ject™ assembly – plunger handle and fitting (TP-9845)
1 – 8″ hose assembly, ¼" flare check valve & R-134a coupler, low-side (TP-9847)
1 – R-12 adapter/purge fitting (107472)
1 – R-134a/PAG dye cartridge (TP-9860)
TP-9890
Mini-EZ™ R-134a/PAG A/C Dye Injection Kit – Low Side
1 – EZ-Ject™ assembly – plunger handle and fitting (TP-9845)
1 – 8″ hose assembly, ¼" flare check valve & R-134a coupler, low-side (TP-9847)
1 – R-12 adapter/purge fitting (107472)
6 – Mini-EZ™ ¼ oz (7.4 ml) cartridges for R-134a/PAG systems (TP-9865-0601)
TP-9891
Mini-EZ™ Universal/Ester A/C Dye Injection Kit – Low Side
1 – EZ-Ject™ assembly – plunger handle and fitting (TP-9845)
1 – 8″ hose assembly, ¼" flare check valve & R-134a coupler, low-side (TP-9847)
1 – R-12 adapter/purge fitting (107472)
6 – Mini-EZ™ ¼ oz (7.4 ml) cartridges that are compatible with all lubricant systems (TP-9875-0601)