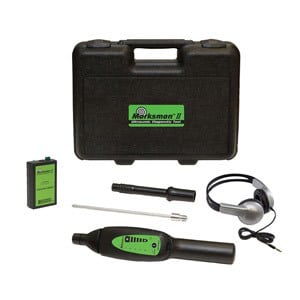 TP-9367L Marksman™ II
Ultrasonic diagnostic tool
Features advanced heterodyne circuitry and "Sound Signature Technology" to convert and amplify inaudible ultrasonic sounds into audible "natural" sounds. Provides quick diagnosis of leaks and defects before they become major breakdowns!
The Marksman™ II is ideal for detecting air brake leaks, compressed air leaks, vacuum leaks, tire leaks, gear and bearing wear, electrical discharge, exhaust leaks, refrigerant leaks, cabin seal and gasket integrity…and more!
Comes complete with ultrasonic receiver, ultrasonic emitter, air probe, contact probe, headphones and rugged carrying case.
Where to Buy
Pinpoint air break leaks, gear and bearing wear in wheel hubs, transmissions, transfer cases, differentials, compressed air, vacuum, electric motors and other pressurized leaks quickly and effortlessly
5-LED signal-intensity indicator and audible alarm easily pinpoint the exact problem source
Laser pointer to help pinpoint the source of pressurized leaks
Internal Noise Control (INC) ensures tool is unaffected by ambient noise. Ideal for use in extremely noisy environments.
Self-adjusting Automatic Gain Control (AGC) circuitry enhances sensitivity and simplifies operation.
Adjustable touch-control sensitivity pad and power switch.
Checks for electrical discharge associated with insulation breakdown, carbon tracking and arcing
Unique ultrasonic emitter helps locate faulty seals, gaskets and weatherstripping in passenger cabs, trailers and other non-pressurized enclosures
Sensitivity:
Detects leaks from orifices as small as 0.004 in (0.1 mm) at 5.0 psi (34 kPa), from distance of 12 in (30 cm)
Weight (with batteries):
3 lb (1.4 kg)
Housing:
Chemical-resistant ABS
Battery life:
165 hours (approx.)
Power requirements:
Two "D" cell alkaline batteries (included)
Frequency response:
36,000 – 44,000 Hz
Circuitry:
Solid state
Headphones:
Full-size, noise attenuating
Replacement Parts

TP-9368
Ultrasonic Emitter
127300
Air Probe
127301
Contact Probe
128197
Headphones, Full-sized Noise-Attenuating
TP-9369
Carrying Case