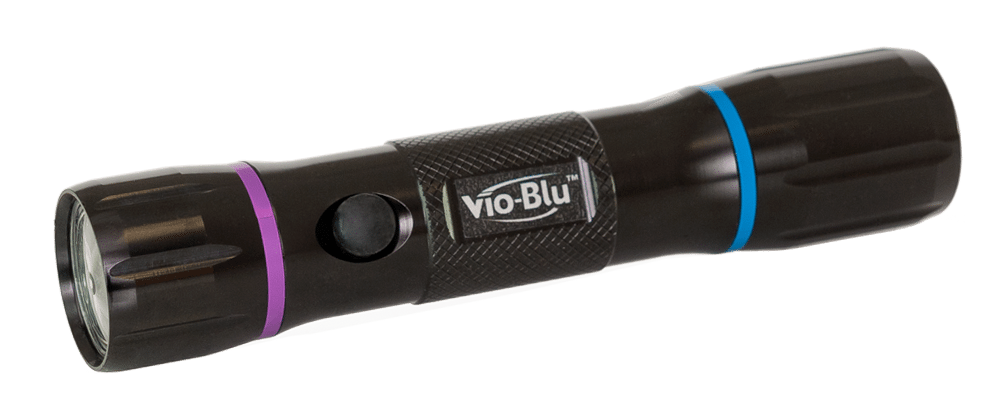 TP-9357CS
Vio-Blu™
Dual-Head, Violet / Blue Light Leak Detection Flashlight!
Vio-Blu™ is a new, dual-head flashlight that features a high-output violet LED at one end and a super-bright blue light LED at the other. The two unique LEDs provide optimal fluorescent response and contrast, regardless of the type of dye used. This ensures that all leaks glow brilliantly! Ideal for all automotive system leak applications.
Where to Buy
Power comparable to high-intensity 100-watt lamps
Inspection range of 15 feet or more!
Violet LED fluoresces all popular universal/ester and PAG A/C dyes, as well as Tracerline® TP-3400, TP-3405, TP-3900 and TP-3940 fluid dyes
Powerful blue light LED works with all oil-based automotive dyes, including difficult-to-fluoresce yellow dyes*
Powered by 3 "AAA" batteries (included)
Fluorescence-enhancing glasses* and belt holster
Packaged in full-color hanging clamshell
*Fluorescence-enhancing glasses required for yellow oil dyes.
Product Number

TP-9357CS

Lamp Source

1 Very-High-Flux Violet LED
and 1 High-Flux Blue Light LED

Inspection Range
15 ft (4.57 m)

Lamp Style

Cordless flashlight

Lamp Head Diameter
 11⁄8 x 6 1⁄16 in (2.9 x 15.4 cm)

5.6 oz (159 g)

3 "AAA" batteries

Accessories
Belt holster (included)