AC Leak Sealant trusted by Professionals

Cool Seal AC leak Sealant finds and seals leaks in condensers, evaporators, accumulators, O-rings and hoses — quickly and permanently.
Compatible with all popular refrigerants, including R-1234yf*. Non-polymer, oil-soluble formula is safe for A/C system components and recovery equipment.
*NOTE: R-1234yf systems require TP9831 adapter
TP-2210CS
Cool Seal™ Syringe Injector Kit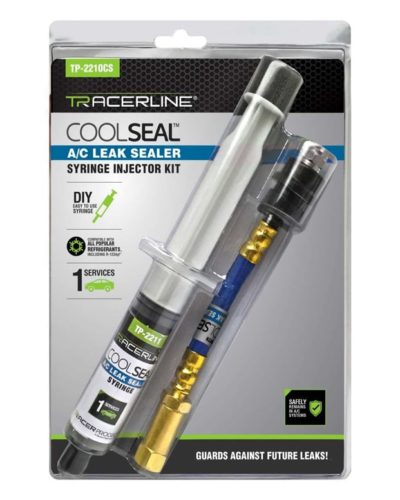 Easy to use. Includes prefilled, disposable syringe, R-134a hose/coupler with check valve and R-12 adapter/purge fitting. Services 1 vehicle. Comes in full-color clamshell packaging.
TP2272 – H

ose/coupler with check valve & purge fitting

TP9831 –

R-1234yf adapter fitting

TP-2211CS – 1 oz (30 ml) Cool Seal™ A/C leak sealer in prefilled disposable syringe (syringe only)