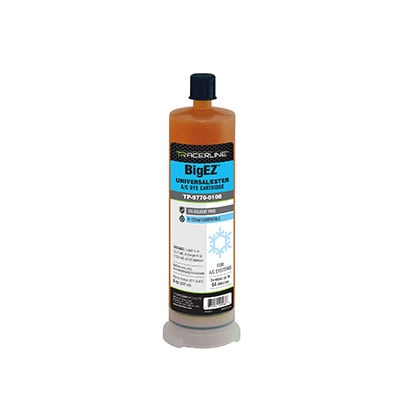 BigEZ™
Multi-Dose A/C Dye Cartridges
Pre-Filled & Disposal!
The Easiest and Most Accurate Method of Serving a Vehicle's A/C System with Dye!
Service multiple systems with just one connection per system.
Where to Buy
BigEZ™ dye cartridges are prefilled with co–solvent free A/C dye, certified to meet SAE J2297 and calibrated for exact dosing (4 and 8 oz. A/C dye cartridges contain enough dye to treat up to 32 and 64 vehicle A/C systems, respectively).
Fits BigEZ™ and EZ-Shot™ injectors. Also works with most popular caulking gun type injectors.
BigEZ™

Product #

Description

A/C Dye
Cartridges
8 oz (237 mL)

TP-9770-0108

(1) Universal/Ester

TP-9760-0108

(1) R-134a/PAG**

A/C Dye
Cartridges
8 oz (237 mL)

TP-9725-0108

(1) R-1234yf/PAG
Also available in 4 oz cartridges.
**OEM Approved