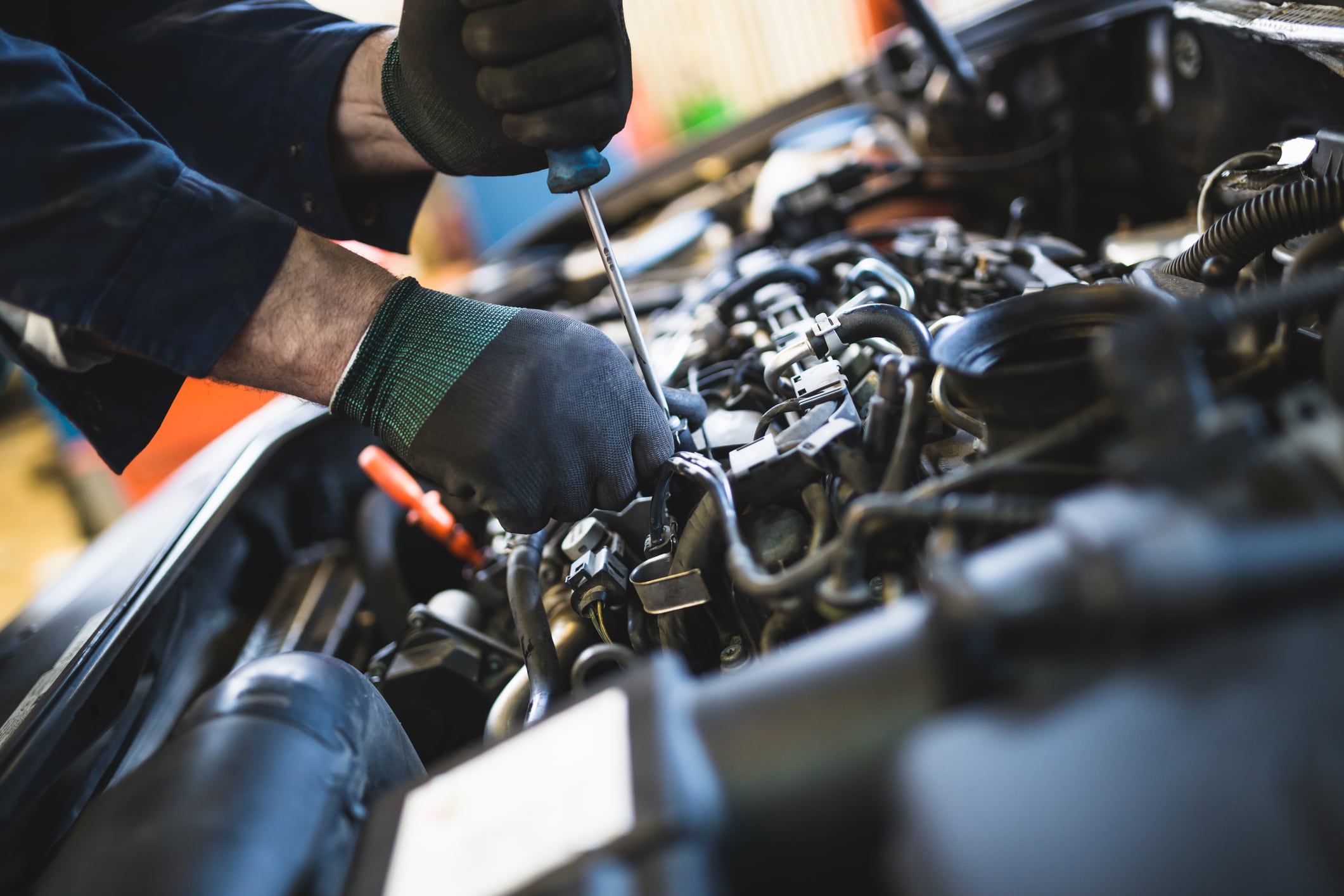 Creating a Preventative Maintenance Plan
In this article you will learn how to build your own preventative maintenance plan.
Preventative maintenance can be simple – or very complex depending on the amount of information being collected.
Some preventative maintenance plans are integral to quality assurance and continuous organizational improvement. These types of plans are usually automated, digitized, and more complex.
Preventative maintenance plans for smaller businesses tend to be simpler and cover the basics.
This article explains some of the nuances of preventative maintenance – such as the differences between operational and predictive maintenance.
We'll discuss the foundational principles of developing a preventative maintenance plan. In addition, we'll go over some of the deeper, more complicated aspects of a matured preventative maintenance plan.

Developing your preventative maintenance plan can seem overwhelming.
But if you take small steps, you can easily create a basic preventative maintenance program for your company. The first step should be defining what your preventative maintenance plan wants to achieve. These objectives can vary from organization to organization.
Some companies may want to reduce general operating costs.
In this scenario, they may review the entirety of their operations. These companies are looking for opportunities to step back and think critically about their operations.
Technology changes every year.
If a company is static and stuck in the same routine, they'll miss out on adopting cost-saving industry improvements.
Companies with well-developed preventative maintenance plans are naturally dynamic because they're constantly collecting information and looking for opportunities to save money.
The the goal is to reduce costs that have become a routine business operation.
Organizations can become blind to their everyday operations.
People can become comfortable with the inefficiencies around them. Companies can also find it difficult to change.
Organizations, like people, are reluctant to change.
Change is difficult and often time consuming. But the benefits of adopting efficient business practices can be incredible.
In 2017, the average cost for replacing the entire vehicle system cost 2,180 dollars.
Most of these total system replacements could have been avoided by maintaining an accurate service plan and using the right diagnostic and preventative maintenance tools.
Automotive shops that maintained a detailed, digital record of the customers and cars they serviced were able to retain their customer base, capture more leads through referral work, and increase long-term revenue.
The Four Elements of Preventative Maintenance
Preventative maintenance is comprised of four basic elements: engineering, economics, psychology, and management (or execution).
Engineering
The engineering portion of preventative maintenance is based on figuring out how often to inspect parts for defects. When is the right time to inspect and replace a specific component?
This element of preventative maintenance focuses on determining how often individual components fail and what needs to be done to stop breakdowns from happening.
PM plans monitor the inventory of parts and tools. To make sure customers get the fastest, most reliable service – it's imperative that auto shops keep a dynamic record of equipment.
Recorded vehicle servicing information can help auto shops remind customers about inspections and attract repeat business.
Customer loyalty grows when the amount of personal attention given is accurate and continuously active. Sending customers reminders about when to service their car builds customer satisfaction and trust.
Economic Value
The second element of a good PM plan is based on economic value. This portion of a PM plan tries to figure out the cost of investing in a PM plan. The annual costs for maintaining a PM plan are also gauged.
The question this element asks is, "How do the costs of a PM plan weigh against the total value of the equipment being monitored and repaired?"
This economic element seeks to calculate the return on investment for implementing a preventative maintenance plan.
For example, gauging how much inventory to keep on site is difficult. But with a PM plan, you can more accurately figure out what to keep on hand.
Auto shops and fleet managers need to be aware of which parts are in most demand. This is also an opportunity to look for more efficient and timely suppliers. The quicker you can resupply, the faster you can provide service.
When stock runs out, that's when your business starts losing money. It's one of the biggest cost-burdens in the automotive repair and fleet management industries. Delays or miscommunication can end up costing your business its reputation.
In some cases, equipment may not be worth saving. For instance, if your PM plan forces you to spend $2,000 to maintain a $1,000 piece of equipment, then your organization is ultimately losing money.
If this is true, then it's cheaper to replace equipment entirely instead of trying to maintain it.
The Psychological Aspect of Preventative Maintenance
The psychological aspect of a PM plan seeks to analyze how people work within the PM plan.
The focus of this psychological aspect is to review the training, standards, and defined policy. This aspect tries to look for hiccups in the process of the plan and areas where conflict may arise.
At the end of the day, your employees and their training will decide if your preventative maintenance plan will succeed or not. If they aren't properly trained, then the plan will fail.
On another point, if there isn't any accountability for how the plan is executed, then there's no incentive for your employees to implement the plan faithfully or accurately.
The psychological aspect of PM is as important as the engineering and economic aspects. Without thorough examination and reflection, all the resources you've invested in your preventative maintenance plan will garner no benefit whatsoever.
In short, the psychological aspect of PM tries to optimize how the people using the plan operate and ultimately maintain the equipment.
The question asked in this element, "How are people reacting to the PM plan? Is it affecting our corporate culture? How can the psychology of this plan work better to benefit the company?"
Management
The management element of PM details how the plan will be executed in the day-to-day operations of your business.
Remember: How the PM plan is managed will affect all the other elements of your PM plan.
The point of management is to make sure all the investments put into making the PM plan is executed properly – ensuring the return on investment is a net positive.
Gaps and inconsistencies in the PM plan can quickly sap effectiveness.
If parts of the plan are being intentionally skipped or avoided, then all the investment in time and energy will be lost.
This element of the PM plan is critical to retrieving data for the continuous improvement of your preventative maintenance plan. It seeks to capture and learn from how the plan is executed within the organization and how it will ultimately help customers.
The Battle Against Entropy
The law of entropy stipulates all things eventually come to a disorganized and unworkable state of being.
Whether it be people, a government, or piece of equipment, all things tend toward disorganization and – ultimately – breakdown.
Can breakdowns be avoided?
Of course, breakdowns can be avoided. The battle against entropy can be won.
But the war will always be lost.
Eventually, all things come to pass or fall into disuse.
The job of a PM plan is to hedge and buffer against the inevitable.
Therefore, it's important to understand preventative maintenance is a direction, and never an ultimate destination.
Let's go over these points in further detail as we progress along our journey in defining what makes a preventative maintenance program tick and work effectively.
Did you know? Nearly 70% of all organizations have only a rudimentary preventative maintenance plan in place.
Archetypal Cycles of Maintenance
Cycles of maintenance can either be vicious or virtuous.
A vicious cycle of maintenance involves emergency repairs. These emergency repairs lead eventually to more emergency repairs.
How does this happen?
Because emergency repairs are time consuming and costly, these repairs naturally steal time away from the maintenance of your existing equipment.
Once you are in this vicious cycle of maintenance, it's very difficult to escape.
A company can quickly become comfortable with jumping from emergency to emergency.
The corporate culture becomes reactive – always needing to adapt and catch the next emergency.
If your organization is small, it may be too difficult to step back, stop reacting to the situation, and take a measured look at how your business is operating.
In cases such as these, it's very difficult to analyze and manage company resources.
Excessive breakdowns lead to emergency overtime hours and further deplete company resources. This prevents your company from breaking the vicious cycle.
Because all company resources are busy making emergency corrective repairs, equipment that would otherwise be operational with regular maintenance now has the potential to breakdown and become unusable.
The virtuous cycle of maintenance is self-perpetuating.
Although breakdowns are inevitable and equipment cannot last forever, company resources are more appropriately managed in a virtuous cycle of maintenance.
A virtuous cycle of maintenance experiences few emergency breakdowns. This means there are less emergency hours and there's time and money available to invest in other areas of business development.
The reason why many businesses don't adopt effective PM plans is simple.
Business owners see preventative maintenance as an expense.
But they should really see it as an investment.
In competitive markets, having optimized operations can help your company reduce costs and ultimately lower your prices for the consumer.
Similarly, preventative maintenance goes hand-in-hand with quality control and excellence in service.
Preventative maintenance means your standardizing your operations.
Quality and consistency naturally improves. It's a byproduct and the net positive of having a detailed PM plan.
Your customers will thank you for your top-tier service and consistency.
Visualizing Your Preventative Maintenance Plan
Inefficiencies can be difficult to visualize.
Wastefulness easily goes unaccounted for during a busy day.
Over the span of an entire year, those small costs can quickly add up. The overall cost can have a big effect on business.
The diagram below demonstrates the amount of downtime within one year for a company without a PM plan.
DIAGRAM
Within this timeframe, three breakdowns occurred totaling around 722 hours downtime for corrective repair.
In this scenario, the productive uptime for the company totaled around 91.7% for the year.
In next the diagram below, a thoroughly fleshed out PM plan has been adopted by the same company and put into effect.
DIAGRAM
Notice there are more but much smaller intervals of downtime.
This is because the equipment was taken out of operation for small periods of time. During these scheduled events, minor repairs and maintenance can be made.
These small repairs ultimately saved the company more hours because the equipment didn't suffer a critical failure that would have otherwise taken much longer to repair.
In aggregate, these small repairs totaled 522 hours downtime for the entire year. The uptime for the company (with a PM plan in place) was found to be at 94%.
Adopting a preventative maintenance plan ended up saving about 200 hours in lost downtime due to breakdowns or missing parts.
Summary of Results:
Without preventative maintenance: 722 hours of downtime.
With a preventative maintenance plan: 522 hours of downtime.
Total time saved by utilizing a preventative maintenance plan: 200 hours of time saved throughout the year.
Selling the Plan
Within every organization, there is resistance to spend money on non-tangible items.
It's the job of the service manager to sell the idea and benefits of preventative maintenance to the business owner or stakeholders.
The one thing stakeholders want to hear is how a PM plan is going to make them money.
Start with this: a preventative maintenance plan reduces operational costs.
As your plan develops and more money is dedicated to preventative maintenance, your plan will become more predictive in nature.
When the savings are totaled, the true value of the PM plan is made clear.
There will be significant cost saving over time, as the plan is reinforced and fully accepted within your organization.
Business Optimization:
Increases operator, maintenance mechanic, and public safety
Reduces downtime
Increases equipment availability
Reduces damage to components
Reduces the size and scale of repairs
Increases equipment's useful life
Increases performance
Reduces overtime for responding to emergency breakdown
Decreases potential exposure to liability
Increases control over parts, reduces inventory level

Outlining the Plan
A well-developed preventative maintenance plan will collect useful data that can identify cost-saving opportunities.
The chart below demonstrates how a preventative maintenance plan can be broken down into two parts: Operational Maintenance and Predictive Maintenance.
Breaking down your plan into detailed, task-oriented segments is the first step in creating a plan that has depth and detail.Operational Maintenance encompasses the day-to-day, scheduled maintenance of your assets.
Specific parts and vehicle systems are routinely maintained in this subsection of preventative maintenance.
Examples of operational maintenance include regular inspection, lubrication, testing, repair, and the replacement of worn parts.
At this stage, there is an opportunity for technicians to get under the hood and see the parts up close.
If there's an issue, the technician can identify the problem, take proper action, and record the repair in a dedicated service log.
Predictive maintenance is based on conditional measurements. These measurements are based on information retrieved during regular inspections.
If a system is underperforming, an inspection will diagnose the problem. This basic preventative maintenance framework helps vehicle assets operate at peak performance – safely and efficiently.
Again, the hallmark of a good preventative maintenance plan involves timely scheduling, inspection, and the recording of service information.
Proactive Versus Reactive Maintenance
Proactive maintenance helps technicians get ahead of potential vehicle breakdowns. There are scheduled dates for inspection and the maintenance of critical parts.
Critical parts such as the transmission system, braking system, steering and suspension systems, wheels, tires, the exhaust system, the electrical system, belts and hoses, and other critical parts are inspected for any defects.
If a replacement is needed, a new part is installed and the date is accurately recorded.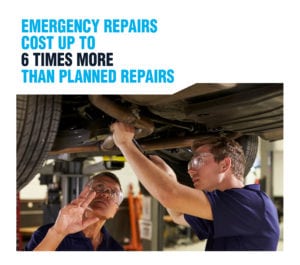 Reactive maintenance focuses on restoring equipment to its normal operating condition.
Emergency repairs cost up to 6 times more than planned repairs, so maintenance plans that rely on reactive maintenance are generally the most expensive.
Reactive maintenance can be very costly indirectly.
Parts that have failed must be ordered, shipped, and delivered. Depending on availability, a replacement part can take days or weeks to arrive.
Vehicle downtime due to parts availability has a big impact on overall operating costs. These shipment delays force many companies to work more hours and pay overtime expenses to meet deadlines.
In 2017, repair shops spent 32% more on reactive maintenance than on regularly scheduled preventative maintenance.
Creating a Detailed Service Log
A detailed service log records important maintenance information.
It's one of the first steps to developing a preventative maintenance plan.
Businesses that keep detailed maintenance records can go back and identify wastefulness. They can analyze this information and find opportunities to save money.
A service log also provides visibility and makes everyone accountable for their work.
To begin outlining your service log, start by listing the criteria most important to your maintenance objectives.
Draft a mission statement of what your plan seeks to achieve. Next, define how your team will be scheduling maintenance.
How will your team stay organized? Who will be responsible for record keeping?
Does your maintenance plan keep track of mileage, important maintenance dates, and other vehicle usage information?
The chart below is a good example of an organized and detailed service log.
Once you've fleshed out your detailed maintenance log, your team can review the data and look for opportunities to save money.
Here are some important questions your team should ask going forward:
What does our maintenance workflow look like?
Where in the maintenance process can our company save money and eliminate costs?
Which repairs are the most expensive and time consuming?
Can preventative maintenance stop costly repairs?
What can be done to reduce the chance of mechanical failure?
Repeatability is the most important element of a preventative maintenance plan.
If your team isn't faithfully collecting data, then you're wasting your time.
Cost patterns are only apparent when there's enough collected data to flag recurrent expenses.
Remember: Preventative Maintenance is about optimizing how a company manages its expenses.
Finding opportunities to fix problems before they get out of hand reduces costs and frees up resources for business development.
Developing the Plan
Outline your objectives to further develop your preventative maintenance plan.
Your goals may be to reduce reactive maintenance. Be specific.
Target problem parts and servicing.
Start with the most obvious revenue-stealing repairs. This will help to reduce costs immediately.
Benefits of Preventative Maintenance:
Improved asset management – businesses saved

14%

on parts replacement
Increased service life and vehicle reliability
Technicians spent less time diagnosing problems
Higher levels of accountability and transparency from accurate record keeping
Reduced indirect costs due to accidents or other liabilities
A preventative maintenance plan is crucial for continuous improvement.
Continuous improvement, sometimes called continual improvement, is defined as the ongoing improvement of products, services, or processes through incremental and breakthrough improvements.
Continuous Improvement Defined:
Plan – Identify an opportunity and plan for change
Do – Implement the change on a small scale
Check – Use data to analyze the results of the change and determine whether it made a difference
Act – If the change was successful, implement it on a wider scale and continuously assess your results. If the change did not work, begin the cycle again
Continuous Improvement begins with the collection of important data.
This can range from surveys, personnel interviews, analyzing inventories, operational costs, and more.
The Workflow Explained
Data Collection
Data collection is the process of gathering information on targeted variables.
This information can be used to make informed decisions that can help improve business operations and reduce costs.
Operating Procedures
A standard operating procedure, known as an SOP, is a set of step-by-step instructions that helps workers carry out complex, routine operations.
SOPs aim to achieve efficiency, quality, and consistency.
SOPs also reduce miscommunication and acts as a quality control agent for an organization.
If your company hasn't defined its operating procedures, now is the time to write down and define your SOPs.
Maintenance Program
A Maintenance Program is built on triggers.
These triggers can be based on time or equipment usage.
Most states require vehicle inspections on a yearly basis. This is an example of a time-based trigger for inspections.
Cars typically need inspections at different times for their various operating systems, as well. This is an example of a usage-based trigger.
An oil change, for example, is required on average every 7,000 miles.
Corrective Maintenance
Corrective maintenance returns the part to its original operating condition. This maintenance can be part of preventative maintenance. But it can also be a standalone segment of maintenance.
For example, corrective maintenance is necessary in reactive situations (such as when a part breaks down).
Corrective maintenance, in addition, can be a part of regular maintenance (such as when a vehicle needs scheduled and timely corrective repair).
Corrective maintenance is expensive.
The cost often includes labor, the replacement part, and ongoing testing to make sure the repair has been successfully made.
But corrective and reactive maintenance contains hidden costs.
Most businesses, for instance, cannot accurately gauge the costs of shipping, delays, or other ancillary costs.
This means costs can be overrun and exceed the initial, quoted cost of the repair – costing business owners thousands of dollars per year.
For all these reasons, corrective and reactive maintenance often costs many times more than scheduled repairs.
Scheduled repairs also extend the service life of components and reduce the chances of failure.
Based on our 2016 survey, 72% of respondents said they reduced their operating budgets by at least 10%. Those who implemented an effective preventative maintenance plan saw a significant return on investment within the first 1-2 years.
Preventative Maintenance in Action
The value of preventative maintenance can be hard to pin down.
We are essentially weighing the risk of a breakdown against the cost of proactive service, right?
For these subjective reasons, it can be hard to understand the true costs of a breakdown before it occurs.
The steep cost of breakdown is only realized when repair bill is due.
Sadly, many preventative maintenance plans start this way: an expensive repair makes people aware of the cost of vehicle breakdowns.
These costs are so shockingly high that it forces a company to reanalyze how they're conducting their usual business.
Business owners start looking for cost-saving alternatives. They realize investing in a strong preventative maintenance plan can save huge amounts money. That money is coming out of their pockets and could've been used for business development.
Let's take a look at the cost of a repair for a single vehicle system.
In this way, we'll better understand the costs associated the with the full-replacement of critical vehicle systems.
The average service life of a transmission system, for example, is about 10-12 years of regular use (+200,000 miles) before total replacement is necessary.
But without regular maintenance, the service life can be reduced by 20-30%.
Automotive technicians cite the lack of regular maintenance as the leading cause of component failure.
Leaking transmission systems can lead to overheating and mechanical failure.
Without proper lubrication, breakdown is inevitable.
Because a transmission system is so critical to the vehicle's operation, the car will become unusable once it fails.
Always remember this: All fluid systems have the potential to leak.
Although transmission fluid is very cheap, if a leak is neglected the cost of repair can be astronomical.
Depending on the age of the vehicle, the cost of replacing a transmission system can exceed the actual value of the vehicle.
In cases such as these, car owners simply put their money toward buying a new car – instead of replacing the transmission.
Basic repairs to a transmission system can reach upwards of $1,500. It can cost about $3,500 to entirely replace a transmission system.
There are many reasons for the high cost of transmission repair.
Transmission systems are complex.
If there's something wrong, the transmission needs to be removed and deconstructed.
When the transmission system is taken apart, it needs to be inspected. This requires time and specialized training.
Individual components within the system need to be checked and, in some cases, totally replaced.
But vehicle transmission systems are only one example.
Cars today have dozens of interdependent systems.
In a recent industry survey, automotive technicians nationwide reported the following common problems when inspecting vehicles:
25% of cars had low or dirty engine oil
13% had low or contaminated brake fluid
18% had dirty air filters
17% had inadequate cooling protection or low coolant levels
16% needed new windshield wiper and 27% had low or contaminated washer fluid
18% needed new belts
Overall, 89% of vehicles were in need of at least one service or repair
¼ of all vehicle system breakdowns are caused by poor maintenance and delayed vehicle checkups.
Based on these numbers, it is obvious that all vehicle systems should be inspected on a regular basis – because each system has the potential of degrading and, if left unchecked, ultimately failing.
In addition to costs and breakdowns, safety is a concern.
According to the Automotive Service Association, 5% of all fatal motor vehicle accidents are caused by poor vehicle maintenance.
About 25% of all mechanical failure can be prevented by implementing a preventative maintenance plan and following up with regular vehicle checkups.
The Society of Automotive Engineers found that preventative maintenance increased service life significantly.
More than one-third all vehicle breakdowns could be prevented if inspections are conducted on a detailed, timely schedule.
By implementing an effective preventative maintenance program, car owners and businesses can reduce vehicle breakdowns.
Fluorescent leak detection dye can pinpoint the exact source of leaks within fluid-based systems.
Depending on the quality of the fluorescent leak detection dye, these dyes have the potential to remain within the system indefinitely (or until the host fluid is changed).
Tracer Products has developed OEM-Approved dyes used by manufacturers such as Ford, Mercedes-Benz, and Honda. These companies use high-quality fluorescent leak detection dyes to target manufacturing defects in the equipment and products they create.
Tracer Products' leak detection dyes are perfect for all preventative maintenance plans.
Once the fluorescent dye is added to the fluid system, it can remain in the vehicle and be utilized for future inspections.
The technical paper below is an introduction to fluorescent leak detection. It explains why fluorescent leak detection is so important in manufacturing today and how these noninvasive dyes can be added to any fluid system – without harming equipment or voiding warranties.
Tracer Products offers complete leak detection kits. These specialized kits come with service tags, all the equipment needed to inspect the system, and instructions for how to use these preventative maintenance tools.
Free Whitepaper Download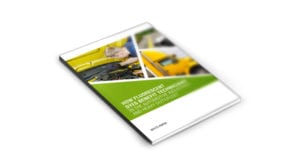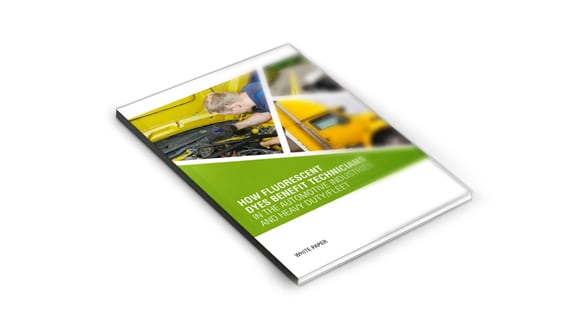 In a 2017 American Automotive Association study, it was found that that about 1/3 of Americans are unable to pay for unexpected vehicle repairs.
The average cost for an unexpected repair was at least $600 dollars.
Repairs can easily run into the thousands of dollars depending on the system being serviced.
The most common vehicle breakdowns could be avoided with proper maintenance – saving the vehicle owner significant amounts of money.
Remember, certain types of vehicles have a greater chance of mechanical breakdown.
For example, trucks performing heavy-duty work are taxed much more heavily than cars. Freight trucks can clock in tens of thousands of hours of operational time in the course of a single year.
The service life of these vehicles is largely based on how often these vehicles are checked for anomalies.
Regularly replacing fluids on a timely basis drastically reduces the chances of system failure.
Problems that could potentially intensify are caught early on when a preventative maintenance program is fully executed.

Figuring Out Your ROI
Most businesses don't realize preventative maintenance plans cost a fraction of their total yearly revenue.
Did you know you can create a successful preventative maintenance plan using less than 3% of your operating revenue?
Many businesses do not recognize the cost-savings associated with preventative maintenance.
Even the smallest investment in a PM plan can save thousands of dollars.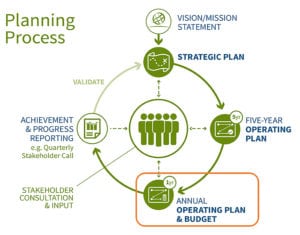 Businesses are skeptical about preventative maintenance because there's ambiguity surrounding the creation and continuation of the plan.
It's also hard to calculate the upfront costs of developing a PM plan.
And it can be difficult to justify whether or not the plan was worth the effort in the first place.
To start calculating your return-on-investment (ROI), subtract the cost of investment from the perceived gain.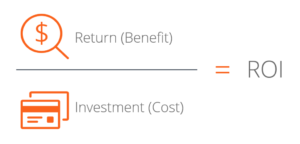 Look for cost savings in the problems areas where your company was spending and losing money (waiting for replacement parts, service callbacks, poor inventory record keeping).
Once you subtracted the cost of the investment from the net gain, divide the remaining amount by the cost of the original investment.
This is how you get a general estimate of your ROI.
Again, these variables can be difficult to pin down.
Labor, resources, and time spent on developing the plan takes time and patience to properly examine.
Parsing out and targeting the correct data, in and of itself, costs time and money.
Although developing the initial preventative maintenance plan will take time and resources, the benefits cannot be ignored.
Here are some quick benefits of creating a preventative maintenance plan:
No longer waiting on parts to arrive. Inventory is stocked with an up-to-date list of parts and material needed for repairs.
Reduced employee downtime and labor costs.
Eliminating overtime expenses to make up for lost time and emergency repairs.
Waiting on shipments and/or shipment delays. Overall delivery becomes much less costly.
The elimination of emergencies. Better quality work and more time spent on each job.
Better management of staff.
Better coordination between technicians. More time allowed for specialized repair and detailed servicing.
Training, Accountability, and Transparency
Training your staff costs time and money.
But the benefits are worth it. Having well-trained, educated employees helps minimize mistakes and makes your company more autonomous.
Properly trained employees find issues more readily. They are more experienced. And they have a better understanding about how to fix problems.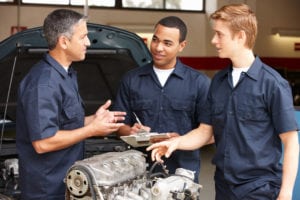 Remember: Your company sets the standard. When a problem comes up, how its handled starts with a clear and definable policy.
Preventative maintenance is not only about efficiency.
Preventative maintenance is about accountability. Employee accountability has a big impact on how things are handled.
Service records contain retrievable data. That means information about the vehicle being serviced, the technician, the repair, and the service date are all being recorded.
If a customer comes back complaining about poor service, service managers can figure out what went wrong quickly and accurately.
Continual Improvement
Lost income is painful.
People will try to avoid the same mistakes that cost them money, if they can avoid it.
But as many automotive specialists know, inefficiencies and repeated mistakes can run rampant.
The key to stopping waste and saving money is implementing a quality preventative maintenance plan.
For large, high-volume automotive shops, keeping track of the hiccups in your day-to-day operations can be tricky.
Automotive shops are often running on tight schedules. They're behind on their work and incurring overtime expenses to meet customer expectations.
Financial losses can easily go unaccounted for day-to-day operations. And the same mistakes could be repeating themselves over long periods of time.
Ultimately, these operating losses show up on the customer's bill. This will harm revenue and will lead to expensive, uncompetitive pricing for your services.
Standardization
Many companies benefit from standardizing their training.
Some companies have even developed well-defined curriculums and offer certificates of completion for training.
Certification truly standardizes training and helps maintain consistency.
Standardization regulates the quality of the service being performed by your automotive shop.
Quality ultimately encourages repeat business, increases referral work, and maintains brand integrity for your organization.
In addition to company sponsored certifications, there are many industry-wide and highly regarded certifications out there.
These types of certifications are impartial and provide unbiased testing. These programs are widely recognized and help build your brand's prestige, internally and externally.
According to the International Institute of Business Analysis, certifications demonstrate authenticity and expertise.
Certifications from professional societies are usually made up industry leaders and educators that've been working in their field of decades.
They set the standards for everyone to follow. And these standards benefit all parties – from the top to the bottom.
Employee Retention, Cultivation, and Satisfaction
Employees are incentivized to get certified.
Why?
Because it looks good on their resume and increasing their jobs prospects.
Yes, certifications are great for your company. But it's also important to your employees as well.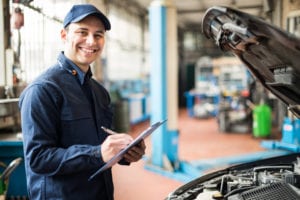 Investing in your employees makes your company a stronger competitor in attracting top-notch talent.
The automotive industry is competitive.
To beat out your direct competitors, your automotive team needs to be equipped with the best tools and training. That means having better incentives and better training than your rivals.
Investments in training will make your company stand out as a facilitator of skills and perhaps a leader in educating the greater community.
Potential employees will flock to you because they'll see your company as pathway to greater career development and success.
The relationships between training, employee satisfaction, and service excellence are close. Find your competitive educational niche. What can your company offer that everyone else can't?
Find this leverage, and your company will naturally succeed and benefit from its investment in education.
Professional society certifications will put your company on the cutting edge.
Not only will your employees be better trained than the competition, you can also charge a little more for your services.
There is a price for quality, consistency, and reliability. Customers love that.
Expand Your Network and Build Relationships
When you invest in training, you're investing in networking and building valuable business relationships.
Many professional certifications require class attendance, travel, and conferencing.
Yes, when you invest in your employees' education, they'll gain valuable insight.
But your employees will also meet and network with people in your industry.
They'll share ideas, build friendships, and possibly facilitate new business relationships and opportunities.
Networking helps your company stay in touch with latest industry trends. Networking fosters personal relationships and collaboration.
This can lead to business opportunities and mutual success down the road.
Your employees will be in contact with different companies in your industry.
Everyone is looking for the chance to make more profit. By supporting this type of networking, you're increasing the probability of these business relationships developing.
Investing in your employees' education shows your company is invested in their individual success.
These investments also demonstrate value.
Valuing your employees increases job satisfaction and helps retain successful employees. Their skills and experience can be taught to new hires and make the onboarding process much easier.
This is the secret to help your business grow successfully.
The TP-8692 UV Multi-Colored Fluid Dye Kit
If a vehicle is consistently losing operational fluid in between inspections, this is an indication of a leak and that means there's a serious problem.
Leaks can be big or small. If the leak is substantial, the vehicle system will shut down and stop working altogether.
But smaller leaks can erode at system integrity over a longer period of time, inflicting damage slowly and perhaps unnoticed.
In cases such as these, the UV Multi-Colored Fluid Dye Kit is the perfect preventative maintenance solution.
The color-coded fluorescent dyes detect leaks quickly and effectively across multiple systems during a single scan.
Even the smallest and most difficult leaks can be detected.
In a 2016 industry report, it was found that preventative maintenance tools, such as ultraviolet fluorescent leak detection, can stop ¼ of all vehicle system failures – saving car owners hundreds or even thousands of dollars per year.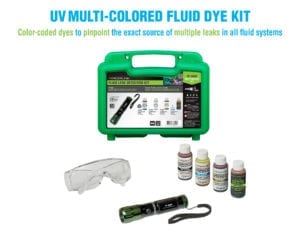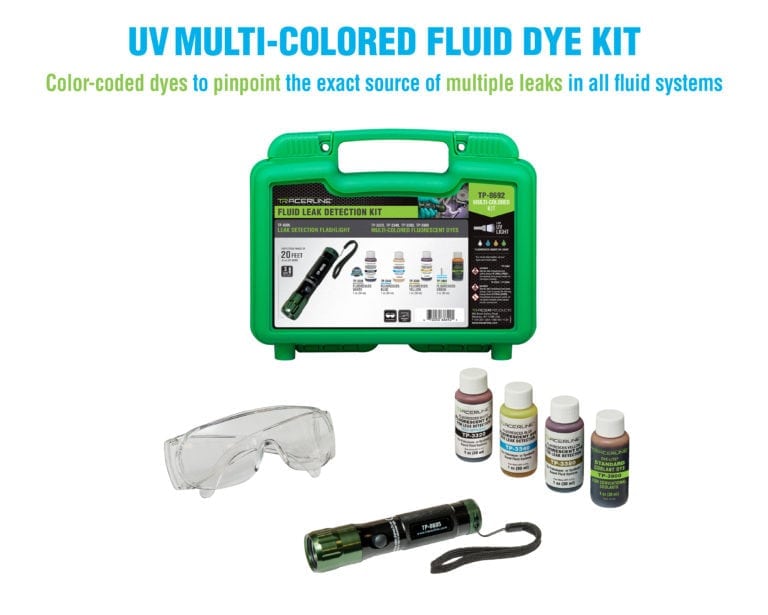 With a set of color-coded leak detection dyes, a single technician can diagnosis leaks across multiple vehicle systems.
The kit includes three color-coded dyes for petroleum and synthetic-based fluids: white dye, yellow dye, and blue dye (red dye is sold separately). These multi-color dyes allow a technician to check for transmission, brake, oil, fuel, power steering, and other fluid-based leaks.
The kit also includes a specially designed green fluorescent dye for conventional coolant.
Tracerline's UV dyes are concentrated, safe to use, and they won't affect the vehicle system's chemical properties or change how the fluid works.
These specialty dyes can remain safely within the fluid system.
That means once the repair is made, the dye can be used as part of a preventative maintenance program.
Every time a customer comes back to have their vehicle serviced, all a technician has to do is scan the vehicle's system with a UV leak detection lamp.
If there are new leaks in the system, the fluorescent dye will glow brilliantly and indicate the exact location of all new leaks, across all fluid-based vehicle systems.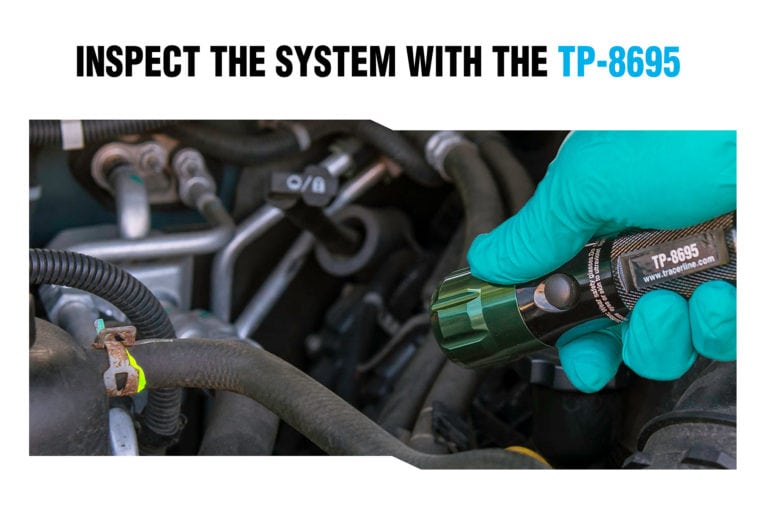 Tracerline's UV Multi-Colored Fluid Dye Kit has been featured on the cover of Professional Tool and Equipment Magazine's December 2017 Issue.
It is the first and only completely customizable, color-coded leak detection kit for all fluid-based vehicle systems.

How Does UV Fluorescent Leak Detection Work?
What is fluorescent leak detection?
Fluorescent leak detection uses fluorescent additives to brightly show any leaks in an operation system.
What is UV light and why is it used in fluorescent leak detection?
UV light is a form of electromagnetic radiation.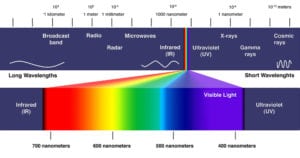 It's normally invisible to the human eye.
However, when UV light is absorbed by fluorescent materials, the light can be reflected back as visible light.
This is known to as UV-induced visible fluorescence.
UV-induced fluorescence occurs naturally in our environment.
Minerals and gems have long been known to have fluorescent properties.
Certain plant and animal species on Earth have evolved with fluorescent characteristics – this is known as biofluorescence.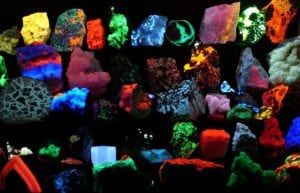 In 1852, George Stokes described the phenomenon in a detailed scientific paper he published regarding the nature of fluorescent materials.
He determined emitted fluorescent light has a longer wavelength and lower energy profile.
While ultraviolet light is invisible to the human light, its refraction from UV absorbing materials becomes makes the light energy visible to the human eye.
Fluorescence occurs when an electron relaxes to its ground state. In this process of energy loss, the electron emits a photon as a byproduct.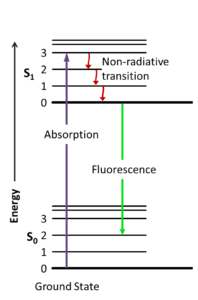 Photons are emitted from fluorophores – the base matter from which an electron escapes. Fluorophores are either atoms, molecules, or another type of nanostructure will UV light absorbing properties.
Regardless of what matter is acting as the base fluorophore, the emitted light has lower energy content than the original light emitted light.
Hence, all brightly visible fluorescent light is really the refraction of a higher-energy light source being refracted by fluorophores.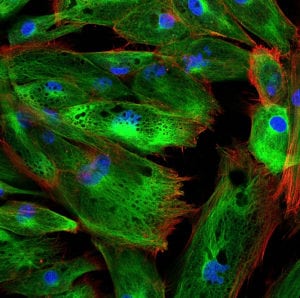 Tracerline's ultraviolet leak detection method utilizes this technology and science to detect the smallest leaks.
Because leaks can happen anywhere, it is sometimes very difficult to find every leak.
Leaks within the same vehicle system can go undetected – even when the car is taken in for servicing.
Automotive technicians who have found a leak assumes the repair is finished.
But vehicle systems can contain multiple leaks.
Multiple leaks can only be found by using a precise leak detection tool.
The Tracerline fluorophore dye agent can be introduced to any of the vehicle's fluid-based systems.
The dye mixes with the host fluid and permeates the entire fluid system.
When the outside of the vehicle is exposed to ultraviolet light, the fluorophore dye agent reacts to the presence of the high-energy light.
Photons are released from the UV-absorbing dye agent and refracted brilliantly as fluorescent light.
Because vehicles are under extreme duress during the day-to-day use of your vehicle, there's always the opportunity for one of your critical vehicle systems of being compromised.
Rocks, asphalt, and other debris on the roadway pose a threat to the network of systems beneath your vehicle.
Once the exterior materials to these systems are compromised, these fluid-based systems will leak their vital operational fluids.
Depending on the size of the leak, the system could either shut down immediately or slowly degrade in performance over time.
Slow leaks are nefarious because they can go undetected and harm your vehicle system.
Anyone can tell you that total system replacement is very expensive.
Sometimes, system replacement can be more expensive than the value of the vehicle itself.
It pays dividends to have the vehicle serviced and properly maintained.
And that's the message you, as an auto tech or business owner, want to tell your customers: "I can prevent very expensive repairs because the tools I use keep your car running, guaranteed."
Premium Performance Dyes
Not all fluorescent leak detection dyes are the same.
Fluorescent dyes can be very useful.
But cheaper, lower-quality dyes can cause harm.
Don't be fooled by generic, off-brand products.
Quality fluorescent dyes are made with co-solvent free ingredients – meaning they dye can fully mix with the host fluid.
Co-solvent free dyes can live within the host system indefinitely. Cheaper dyes have the potential to deteriorate aluminum tubes, fittings, and joints.
If the dye formula is weak, more dye is required.
This increases the chances that the dye will harm the system or undermine performance.
Cheaper dyes can change the chemical properties of the host fluid. If the equipment isn't working properly, it can become damaged and cause serious harm.
Quality dyes are examined by outside laboratories. This means they're vetted and guaranteed to meet their stated specifications.
Quality dyes should be approved by original equipment manufacturers. OEM-approvals take time and require through testing for safety and compatibility.
Once a fluorescent dye is OEM-approved, it can be used safely and confidently by service conditions.
The best part of OEM-approved tools is that they don't void equipment or vehicle warranties.
This means an automotive shop can find leaks, keep their customers happy, and safely maintain equipment under the original equipment manufacturers' warranty.
Tracerline has been a leading name in the automotive leak detection market for more than a half-century. Tracerline developed leak detection and perfected the engineering science behind fluorescent leak detection technology.
More than 250 million vehicles worldwide have had Tracerline's leak detection dyes installed. Most importantly, Tracerline's dyes are OEM-approved and are trusted by industry leaders to deliver the most consistent results.
Automotive leaders such as General Motors, Ford, and Mercedes-Benz have used Tracerline leak detection dyes as the leading product in the field today.
For more information about the UV Multi-Colored Leak Detection Kit and other Tracerline leak detection product, please visit https://tracerproducts.com/tp-8692/